Why Lorde is one of the world's must-see live acts
Author

Section

Publish Date

Wednesday, 15 November 2017, 11:12AM
When Lorde first started performing, she stood centre stage swaying, covering her face with her hair and barely talking.
But last night, she brought her Melodrama World Tour home and dominated the Powerstation just as well as - if not better than - any major international act could've, with a set which came complete with video interludes, poetic voice-overs, full synaesthesia-inspired lighting sets, neon signs, smoke machines, costume changes, back up dancers and intimate banter.
She opened the show saying; "Holy shit, we are at the f***ing Powerstation right now...it means so much...we are in the place where we are from. This is a very special place for me."
Lorde grew up in Auckland, she no doubt would have lined up to see her favourite bands at the very venue she sold out, and the gravity of it seemed to really hit her on stage - particularly when she played her first hit Royals and finished on the line "let me live that fantasy", as the crowd cheered deafeningly loud.
She danced with an ecstatic smile and every now and again took a minute to soak it all in. But mostly she kept to her promise: "I will give you everything if you give me everything". She played a set full of songs from her latest release Melodrama, some throwbacks from Pure Heroine and as far back as the Love Club EP, and even threw in a cover of The 1975's Somebody Else.
Her vocals have come impressively far since her Pure Heroine days and now she throws in random tricks and runs that never used to be there before.
A highlight of the show was when she shushed the crowd into silence and sang Writer in the Dark - her most technically impressive vocal on the album - completely a capella while the crowd stood in silence and watched. Was it perfect? No. But the point wasn't perfection, it was emotion, and she growled and gasped her way through it stunningly.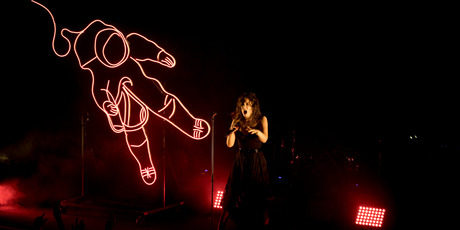 At one point she sat on the stage and played a xylophone to introduce Buzzcut Season, a TV set played 80s-home-movie-type visuals while she recited spoken word poetry in a voiceover, she addressed audience members by name, explained her "witchy" synaesthesia, and kept total control over the crowd at all times.
She started Sober II and had to start over after a coughing fit interrupted the intro, telling everyone: "Just clap while I deal with this" before resetting expertly, her hands moving as if to conduct the band.
Gone is the Lorde of old; This is a Lorde you need to see live. A Lorde who jumps into the crowd, who has hand-written confetti fly out of canons while lights flash green and red, who does encores made up of silence and singalongs and who belts and roars and dances with abandon and screams at you to do the same.
She ended the set on Loveless, making the audience sing the final word for her before giving a kind of victory cry and running off stage. The final word was "generation", and Lorde just proved herself a joyous icon of one.