Whatever happened to... Stellar*
Author

Section

Publish Date

Thursday, 30 November 2017, 10:16AM
It was the late 1990s and Boh Runga was touring Australia with Strawpeople. On a flight between Melbourne and Sydney, she met a man she'd previously only heard about – Michael Glading. He was the Sony Music boss who had signed her sister Bic and made her a platinum-selling star.
Glading asked what Runga was up to and she mentioned a new band she was kicking around with, called Stellar*.
Fast forward a few weeks and the band found themselves in Sony's office for a bit of a chat. They recall the meeting fondly, joking that none of them really knew what they were talking about. By the end of the hour-long meeting, a deal had been done and Stellar* set to work on their debut album Mix – a record that would go on to be certified five-times platinum.
READ MORE: Don't Stream It's Over: The rise and fall of the NZ music industry
Sony recruited producer Tom Bailey (formerly of the iconic UK pop band Thompson Twins), a "whiz kid" who was using Pro Tools "when no one knew what it was," says drummer and founding member Andrew MacLaren.
The band hammered out ideas in a tiny room beneath Runga and MacLaren's flat in Westmere, with Bailey embracing new and innovative styles of electronic production. "We were really keen to develop our sound and try new things," says guitarist Chris van de Geer. "It was just a real good zeitgeist of ideas at the time."
The first single What You Do [Bastard] was released before the album was even finished and radio stations began playing it on high rotate – to the surprise of everyone but Runga, who says she knew it was a great song.
But it wasn't until later sessions, after Bastard's release, that Stellar*'s secret weapon came into existence: Violent, their thrashing standout single, on which Runga somehow manages to fit "nihilistic" into a pop song.
"I think I might have been poring over a dictionary at that stage," she says.
"Some producers would try and delete words like that," says bassist Kurt Shanks. "Like, 'you can't have those words in a pop song!' It's a funny song. People just go f***ing nuts over that one."
Runga adds: "It's crazy. They love it. They don't even know what they're singing and they love it. People think [the line] is 'pretty violins'." (For the record, it's 'pretty violent').
Mix sold 19,000 copies in its first week. Seven weeks later, it was number one on the New Zealand album charts. At one point, it was estimated that one in 18 Kiwi households owned a copy.
"It took on a life on its own," says van de Geer. "It snowballed so massively in every sense. It was just incredible."
The years after Mix weren't without speed bumps – Stellar*'s second album Magic Line suffered under the intense pressure of fan and industry expectations. "It was grueling, and it was work, as opposed to pure creative enjoyment, which Mix totally was," says van de Geer. "We'd turn up each day and we just knew we had to finish it."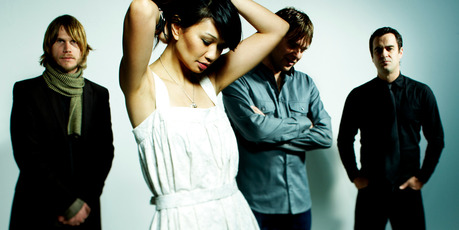 There was an expectation from Sony to break into the US market – but just a month before Magic Line's release, two planes took down the World Trade Center towers on September 11. In a story that echoes fellow Kiwi band Zed's experience, the world changed in an instant and music labels lost interest.
"Music seemed frivolous," says Runga simply.
"You cannot underestimate what that event did to the psychology of the entire world," says MacLaren. "It just bottomed out."
In 2006, after their third album Something Like Strangers, the fire that had been fueling Stellar* for almost a decade began to wane.
Each band member became busy with other projects and the decision was made to call it a day. There was no bad blood or beef; just the realisation that you can't have too much of a good thing.
"We had a gig, and I just remember thinking, 'oh no, it doesn't feel very good singing these songs'," says Runga. "It shouldn't feel like a slog."
Almost 20 years since Mix, the members of Stellar* are still finishing each other's sentences. They meet regularly for dinners (paid for with leftover Stellar* royalties) and chat about old times and new.
Over the years, requests to reform and play kept rolling in, but it wasn't until recently that they started to warm to the idea. The offer came through to play a tribute to Sharon O'Neill at this year's music awards, giving them the final push they needed. It was time to get back on stage.
"We had a great time doing Maxine, and that was an honour for us. We sort of fell into our jokes, and had fun. If it's not friggin' fun, it's pointless," says Runga. Now, they're planning to continue that fun with a handful of shows throughout summer.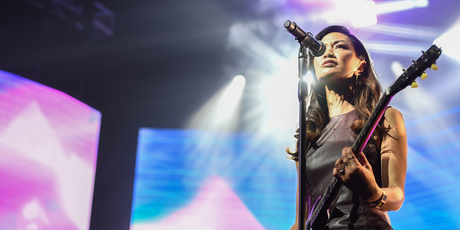 The band acknowledge they are returning to an industry that's almost unrecognisable from when they last played together - but say they're excited by the prospect.
"Live music's the most common generalised form of art that everyone enjoys," says van de Geer.
"I think we've always put on good shows," says Runga, "But I'll think we'll do it better. I feel excited about it."
Loved the music? Take the quiz!
‌