On set with the cast of Thor
Author

Section

Publish Date

Wednesday, 11 October 2017, 2:13PM
Secrecy on the Thor: Ragnarok set is out of control. Phone cameras are covered with stickers, there are posters of superheroes imploring everyone to "keep secrets" and "smash and shred" confidential documents.
Which is why, when I find a crime-solving board covered in pins linked by string, I figure it must be important - it's been made by the director, after all.
Except the director is Taika Waititi and the board is utter nonsense.
It's covered in questions like "what are the infinity stones? Is Fury a real name?" and random notes like "beauty and brawn can save the world". There's a picture of a purple man in a floating chair, a crude pencil-sketch of Thor and a bunch of random doodles.
It's a pretty good indication of what we're in for.
Even Waititi's trailer stands out from the rest, with its "Please take off your shoes" sign. Everywhere you look there are signs of his influence, but nowhere more so than on set, where his laughter is audible from outside the studio and inside he is running around in his classic-cut suit and cheese-cutter hat, pretending to be The Hulk.
He sets up the film's star Chris Hemsworth for a fight scene with The Hulk and, after the first take, yells: "You smashed him, bro. You f***ing smashed him, eh?"
He then introduces the second take with: "Okay, let's do one more that's cooler. Slash better, slash less shit. And come in hotter. As in: your face. Make it more hot." And in the downtime, he starts beat-boxing over the mic.
I am willing to bet no Marvel set has ever been quite like this one. Everyone I talk to is totally enamoured by the Kiwi director's humour and energy.
The costume designer describes Waititi as "a dream", using words like fantastic, great and loveable in one sentence. And that's just the tip of the iceberg; everyone loves Taika Waititi.
They speak of him with a kind of reverence, admiring how his vision and vibe are changing everything. It's hard not to feel a sense of pride in this Maori boy from New Zealand who told Kiwi stories in a Kiwi way, and did it so well the rest of the world is desperate to bottle it up and take a piece of it.That's what Marvel did, and they're hooked.
Producer Brad Winderbaum says right from the pitch, Waititi's vision was fresh and exciting, and the heart of those Kiwi stories were exactly what they were after.
"Everyone at Marvel really liked [What We Do In The] Shadows and when we went back and watched ... Boy in particular, we realised this guy, he had the right tone for a Marvel movie - really great characters, funny but capable of great depth," says Winderbaum.
"The other thing Taika really brought to the table was a driving energy that is very prevalent in the comic books but that we never have captured on screen before, which is this kind of all-out, balls-to-the-wall, epic space adventure that just grabs you by your collar and yanks you on this journey and doesn't let go. He really made it clear that he was the guy for the job right away."
It helped that the franchise's star Chris Hemsworth was so much a fan that when Waititi's name came up, "I was screaming about [him] ... he had my vote.
"As soon as we got on the phone and started talking about things we disliked about what we'd done before, we were laughing going, 'Good, well any time we feel it's heading in that direction let's just do the opposite'," he says.
"Then at times it's like, 'we're pushing this too far', so you've got to reel it back in a bit, but you've got to have that field to play in or ... you kind of restrict yourself. Just having Taika lead the ship here has given it that fun sort of energy."
And while back home we're still just impressed Waititi landed the gig, for him, it's business as usual.
He's surrounded himself with fellow Kiwis, the atmosphere is relaxed, the cast are constantly improvising - as is the Waititi way - and ideas are flowing.
"The main difference ... I think is just the scale. The machine is a lot bigger and moving that machine around takes a lot longer," says Waititi.
But, he adds, "The shooting style is very similar, the way I work with the actors is very similar ... you just have to create friendship and a very relaxed environment; we usually play music, there's a lot of kids around all the time ... so I think that's what's sort of kept the job enjoyable."
While Waititi admits he was uncertain how a major studio like Marvel would handle his style, he was comforted by the work they'd done with other directors whose unique styles shone through, like James Gunn's Guardians of the Galaxy.
"I knew that they would at least listen to what I had to say, otherwise it would've been a very weird practical joke. I just was very vocal right from the beginning saying, 'I think it should be like this' ... and they kept agreeing,"
Waititi's film sees Thor imprisoned and trying to get back to Asgard in time to save it from the ruthless Hela (Cate Blanchett), but to get home he has to get through The Hulk and travel across the universe.
His main goal was showcasing Hemsworth's comedic talent and making Thor more multidimensional than he'd been in the past.
"My idea of what a hero should be comes a lot more from 80s movie stars, you know? Like Bruce Willis and Indiana Jones ... so I wanted Thor to become more like those kind of heroes who are not only great at action but really funny.
"I just wanted people to be more on side with Thor and make Thor the most interesting character in the film; there's no point calling a movie Thor if he's not the coolest thing in it."
But while the vibe is 80s, the aesthetic is 60s Marvel, as Kiwi production designer Dan Hennah draws a huge amount of inspiration from Jack Kirby, a long-time artist for Marvel who was instrumental in helping Stan Lee create many of Marvel's major characters.
It's a move that even Hennah admits "is a huge risk", considering Marvel's other ventures are aiming for a more futuristic look.
But then, everything about this is a risk. Hiring an indie film-maker from little ol' New Zealand to make a blockbuster for one of the biggest studios in the world is a risk. But that's the point; Thor: Ragnarok isn't playing it safe.
"It's one of those things, you know, you jump on the ride and hold on tight, because if you don't stay with it, it's gonna fall over, so it's really important to embrace the idea completely and take the full ride," Hennah says.
"I think Taika's humour and approach just reinforce that and, without a director who was going to reinforce that, you'd be in an entirely different place. You can't have one without the other."
KIWIS IN SPACE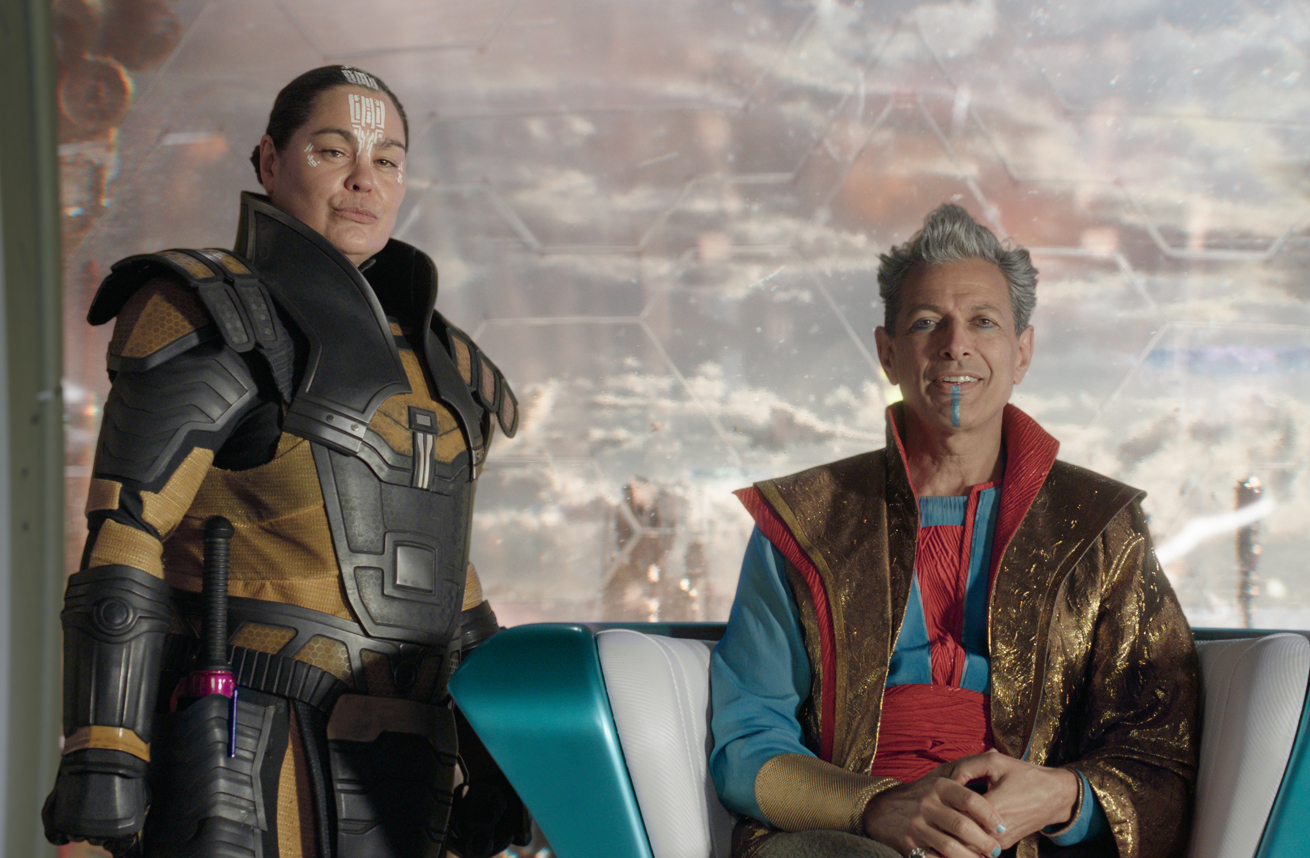 Waititi's set is flooded with Kiwis behind the scenes and on camera. Hennah is production designer, having worked on most New Zealand-made productions, including all of The Lord of the Rings and Hobbit films.
New Zealand's most famous stunt performer, Zoe Bell, worked as Cate Blanchett's double, Kiwi actor Karl Urban is in it and Waititi himself has a small cameo part.
But most impressively, he especially brought in Cohen Holloway, who's been in every Waititi film and Rachel House, with whom he's worked closely - including on Hunt for the Wilderpeople.
House says while it was "initially very overwhelming to stand alongside those super-famous people", Waititi's influence soon made the Hollywood set feel like home.
"[He] just made it feel real and fun and good. It was wonderful to see him be in charge of something that epic and he seemed right at home, he was so relaxed and ... people loved working with him. That's a real testament to us, how we are," she says.
"There was crew from New Zealand there as well; mates I've met on other jobs ... and that's how we are, everybody hangs out. It was a fun time."
Waititi even seems to have invented a role specifically for House.
"Topaz is in the Marvel universe but ... I'm not sure they necessarily followed through on all those qualities," she laughs.
Either way, she says "he certainly injected his own sense of humour. It's very us, it's very Aotearoa."