Jeremy Wells talks 'terrifying' Seven Sharp debut
Section

Publish Date

Wednesday, 7 February 2018, 1:01PM
Jeremy Wells says he was "terrified" on his first night as a Seven Sharp presenter, and that laryngitis hampered his ability to "speak properly".
Speaking on The Hauraki Breakfast this morning, Wells told his co-host Matt Heath that he felt like an impostor on the set.
"I can hear my heart thumping, and I'm going over what I'm going to say, and I'm watching and I'm thinking, 'I don't think I should be here, this is terrifying.'
"It's totally surreal," he continued. "I'm reading the autocue that [Andrew Saville]'s reading, and he's looking almost straight at me, because we're straight across from him, and I'm just watching how calm everyone else seems to be and how terrified I am."
Read more: • The biggest problem with Seven Sharp • Seeing pink: Viewers hate the new Seven Sharp set • Ratings wars: Seven Sharp trumps The Project on debut
Wells was also struggling to speak on his first night of the revamped show as he was suffering from laryngitis.
"The thing I'm thinking about most is the fact that I can't speak properly because I've got a bit of laryngitis going on, so I can't actually talk," he said. "I want to project but I can't actually get the oomph, there's nothing in there."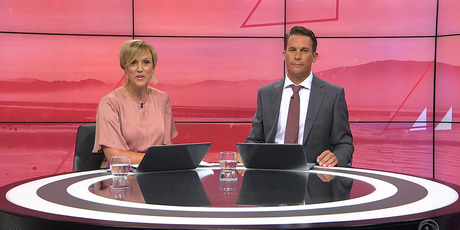 When Wells asked Heath whether he liked the new pink set, Heath said: "I thought the whole thing had a womb-y vibe. Like you guys were in a womb."
Wells joined the new-look Seven Sharp along with Hilary Barry after Mike Hosking and Toni Street's departure. Barry moved to the slot from Breakfast, where Hayley Holt has filled her spot.