Jack Tame meets Cara Delevingne
Section

Publish Date

Saturday, 7 October 2017, 1:28PM
Cara Delevingne says her latest role left her in a "depressed state" and that writing her first novel helped her through the experience.
Speaking to Newstalk ZB's Jack Tame about her debut novel Mirror Mirror, Delevingne recounted how writing became a lifeline while filming Life in a Year, in which she plays a teenager diagnosed with terminal cancer.
"When I was filming my last project, Life in a Year, when I was playing a teenage cancer patient, it was actually a really nice light at the end of the tunnel," said Delevingne.
"To be able to have this part, which actually got me quite in a depressed state, I guess, and actually being able to write about these four characters... it was actually quite nice to have an escape from that."
Mirror Mirror follows the lives of four 16-year-olds, one of whom dies in tragic circumstances. Delevingne said it's "not a light book" and that it was important to her to shine a light on some of the serious issues that affect teenagers.
"It touches on a lot of different things which I think are very important to talk about, in terms of mental illness, and identity, and finding out who you are, and not knowing who you are.
"If you can create things from that darkness then it's the most amazing thing in the world, because then other people connect with it. That's the point, because you're not alone."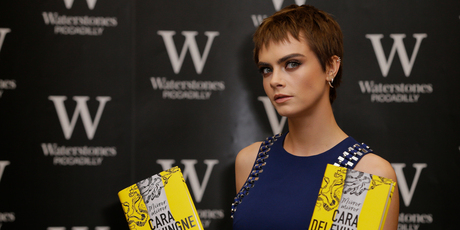 On her modelling career, Delevingne said she does not want young girls to aspire to become models. "There was a point in my career where a girl came up to me and said, 'I want to be a model because of you'. And that made me sad because I don't want girls to dream to be models.
"It's amazing to be able to be a model. It's a great job, don't get me wrong - of course you're blessed to have your picture taken by these people, be on the cover of any magazine or whatever.
"But at the end of the day, if girls can have dreams which are bigger - about helping people and changing the world and driving new initiatives forward about making the world a better place - I think women have such an amazing capability of nurturing and bringing people together in love, and I just think that needs to be more, and less about what they look like."