Howzat! Chris Harris' stunning DWTS rise to the top
Author

Section

Publish Date

Sunday, 13 May 2018, 8:57PM
We are five episodes deep into Dancing with the Stars and plenty of booty-shaking action took place on the dancefloor this evening.
After Auckland Housewife Gilda Kirkpatrick was eliminated last Monday night, other celebrity contestants surely danced their socks off tonight to fight for their place in the competition and to raise funds for their chosen charities.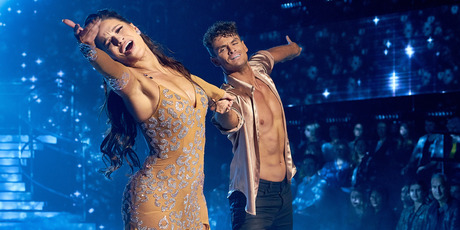 The theme this week is 'jam songs' where contestants can choose their own songs they love to dance to.
Chris Harris topped the leaderboard tonight with 24 points. In second place is Shavaughan Ruakere on 23 points and in third place is Jess Quinn on 21 points.
Judges Rachel Winter, Julz Tocker and Camilla Sacre-Dallerup scored the 7 contestants and their dance partners as follows:
• Chris Harris, 24 points • Shavaughan Ruakere, 23 points • Jess Quinn, 21 points • Roger Farrelly, 20 points • Samantha Hayes, 20 points • Robert Rakete, 18 points • Zac Franich, 17 points
Highlights from tonight's show included an intimate dance from two of the judges, Rachel White and Julz Tocker.
Fans on social media thought it was up to scratch.
They are beautiful dancers, we can't deny that. #DWTSNZ

— Brodie Neves-Taylor (@brodiesaurusrex) May 13, 2018
He's like a permed Ken doll. Dad's feeling a bit insecure #DWTSNZ

— Jessica Middleton (@ModernDayDame) May 13, 2018
Now wonder why they asked Rachel to be a judge on #DWTSNZ ... She's good!!! And so is Julz

— Brodie Neves-Taylor (@brodiesaurusrex) May 13, 2018
First contestant who danced tonight was Shavaughan Ruakere and her partner Enrique.
Shav chose to dance to the song 'Feel The Love' by Rudimental for her "friend Helena who died from cancer" and said in her pre-dance interview that she was "dancing for the boobies" for the NZ Breast Cancer Foundation.
"That is what I call a proper quick step... I loved it! You danced tonight for everyone who has lost somebody," says judge Camilla.
Gah, Shav making me cry right out of the gate #DWTSNZ

— Rowan (@RowanGayle) May 13, 2018
#shavrique actually made me a little teary eyed, fantastic dancing and the joy in Shavaughn's face, definitely could feel Helena was there in spirit! #DWTSNZ

— Annetteb (@Feryllio) May 13, 2018
The second dancer tonight was rocking Roger Farrelly who chose a Metallica song for his waltz.
Fans were not surprised by his music choice.
Rog waltzing to Nothing Else Matters is the least surprising thing that has ever happened on this show. #DWTSNZ

— ante meridian (@dizzydover) May 13, 2018
Rog in tails,waltzing to Metallica. Suave AF. #dwtsnz

— gaijin chick (@gaijinchick) May 13, 2018
A waltz... to Metallica... wearing tails over a bogan tshirt ... God I love ya Rog #DWTSNZ

— Jessica Middleton (@ModernDayDame) May 13, 2018
"No more dodgy Rodgey. Mate, I really liked it" says judge Julz.
The third dancer tonight Samantha Hayes and her dance partner Aaron performed the jive for the New Zealand Riding for Disabled charity.
Hayes chose Florence and the Machine's song 'Dog Days Are Over.'
Fans thought Sam 'nailed it' and was very 'cute.'
Yes Sam! Nailed it! This is so cute #DWTSNZ

— Tamz (@vivalatamz) May 13, 2018
Seeing someone as poised and delightful as Sam Hayes out of her comfort zone is really endearing #DWTSNZ

— Stewart Sowman-Lund (@StewartLundNZ) May 13, 2018
However, the judges were not so impressed.
"It was some not so good dancing," says Rachel White.
Camilla even said she "should think about working with an acting coach" to get out of her shell to show more personality.
Fourth dancer tonight was Jess Quinn and her partner Jonny who are currently leading at the top of last week's table.
'Closer' by Six60 was her "first thought" when it came to choosing her favourite 'jam' to samba to this week.
Judge Camilla says she is hugely inspired by Jess: "You are here and committed and you are going nowhere," (as in not getting voted off the show.)
Former Bachelor NZ star Zac Franich was the fifth dancer.
Fans thought his attempt at the jive was a bit 'dorky.'
Zac has that uniquely NZ quality of being smooth and a complete dork at the same time.#DWTSNZ

— ante meridian (@dizzydover) May 13, 2018
Getting awkward 'cool dad' vibes from Zac's moves tonight. #DWTSNZ pic.twitter.com/B91HGQOWx4

— Philip Ross (@philipisross) May 13, 2018
Judge Julz' feedback was "this wasn't a great performance for you, some problems really happened. You should come back next week and fight. Not great, but you ain't going anywhere."
"You didn't close your feet once, but keep up the good work," said Rachel White.
The sixth dancer was Robert Rakete and his dance partner Nicole danced the waltz.
Fans loved his song choice, 'I Have Nothing' by Whitney Houston.
Ahhhhhhh a song for us over-40s!! #DWTSNZ

— Christina (@chrissiecee) May 13, 2018
Great song choice! Huge improvement from last week. #DWTSNZ

— ante meridian (@dizzydover) May 13, 2018
"I loved seeing the softer side of you tonight, but the transitions need to be seamless," says judge Rachel White.
The final dancer tonight was cricketing legend Chris Harris and his partner Vanessa who danced a lively jive to 'Proud Mary' by Tina Turner.
Fans on Twitter were loving his performance.
Bloody hell Chris! Boy can do more than just play cricket!! Amazing! #DWTSNZ

— M E R M A I D M A R Y (@themermaidmary) May 13, 2018
Have they replaced Chris Harris with a stunt double? He's really improved#dwtsnz

— Kyrie (@kyrie_nz) May 13, 2018
"I thought the roof was going to take off in here. That was awesome! I have three words for you, I love you!" said judge Camilla.
Competitor Naz Khanjani, who will dance tomorrow evening, spoke to host Sharyn Casey about her dance partner's injury during rehearsals this week.
"During the rehearsal yesterday Tim's knee bent sideways and he nearly broke it," says Khanjani.
"To be completely honest I highly doubt he will make it on stage tomorrow night but he is a fighter. I will be here no matter what even if it means dancing alone."
Tune in tomorrow night at 7pm on Three to see who will be the second celebrity to get eliminated off Dancing with the Stars New Zealand.