Failed TVNZ show's props on Trade Me
Section

Publish Date

Wednesday, 7 March 2018, 12:28PM
Producers of low-rating New Zealand TV series Filthy Rich are selling an extensive collection of items from the set of the show on Trade Me.
More than 90 items, including candle holders and wedding dresses, are listed on the auction site by an account titled "filthy-rich".
"We're selling items from two series of NZ's top rated show," says the profile's 'About Me'. "Clothes. Props. Set Dressings and Furnishings. Check out our updated listings."
The items include home decor, furniture, art and clothes, with prices ranging from a $1,600 lounge suite to a bulk buy of desk chairs with a $1 reserve.
Novelty items for fans include the Truebridge Hunt Corporation logo from the show, as well as the wedding dress worn by Shushila Takao's character Ariana.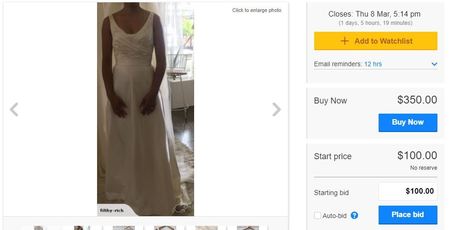 Filthy Rich was axed after its second season, as announced on the show's Facebook page in December last year.
"Thank you to all our viewers who followed the Truebridges through sick & sin. We'll miss you," wrote the post. "Keep supporting NZ drama in 2018."
However, a US version of the show is in the works from Fox, with The Help and The Girl on the Train director Tate Taylor attached to write and direct.
The series was New Zealand's most expensive ever, receiving $8.1 million in funding for its first season and $6.9 million for its second.
Written by Outrageous Fortune creators Rachel Lang and Gavin Strawhan, the series received savage reviews from critics, which resulted in Strawhan lashing out at one of the more vocal reviewers, Duncan Grieve.
Grieve heavily criticised both seasons of the show, saying of the first season; "From the intrusive 2000s "rock" score to the breakneck pace and desperate plot contrivances, it's a show that feels entirely adrift from the thrust of contemporary international drama."
In an interview with Fairfax last year, Strawhan lumped Grieve in with what he called the "Grey Lynn 500".
"[It] is a small group of wa**ers who think they should dictate to the rest of the country what the rest of the country's tastes are.
"And they feel really arrogant about it, and they don't acknowledge what people actually like, because they want some dark, moody Norwegian thriller."
The second season of Filthy Rich debuted to low ratings last year, with its premiere attracting just 170,000 viewers, dropping to 123,000 in its second week. That drop marked a 50 per cent decline from its season one average of 250,000 viewers.