Why is John Key's favourite restaurant going BYO?
Author

Section

Publish Date

Saturday, 28 October 2017, 12:23PM
The couple to my left had just got back from a long weekend at the house on Waiheke and were too tired to cook.
"Have they never heard of pizza?" I whispered to James.
By the window, two women sat separately, eating alone. One read a novel, the other a newspaper. Later, the book reader's table turned over to a pair of well-dressed teens. They ordered oysters.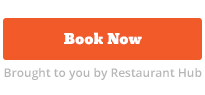 "Have they never heard of pizza?" I shrieked to James. The syrah had kicked in. So had the realisation that in situations where normal people call 0800-melted-cheese-in-a-box, Parnell people slum it with charred ox tongue and bone marrow butter.
I ordered the short rib with charred cauliflower and date salsa ($32). So did the 9-year-old in the football jersey sitting to my right.
It was Monday, and Rosie was heaving. I'd called ahead from the poorer side of town, but everything that could be booked, had been. I wheedled. I promised we'd get in a cab immediately. Okay, relented the maitre d', who didn't just save us a table, but shifted us to a less draughty one as soon as she was able.
Turns out Monday nights are BYO. Genius. There's nothing people with money like more than the opportunity to save more money.
Rosie's most famous customer is former prime minister John Key, photographed here the morning after the 2011 and 2014 elections. "Have you been for brunch?" asks our waitperson. Apparently, when the weather's good, the windowed walls are pushed open. I imagine Rosie in the sunshine, all white-painted wood, slatted leather seats and a warm breeze in your ponytail. Irresistible.
Meanwhile, back in the real world, it was cold and rainy. That ox tongue ($23) was meaty and rich with a heart-stoppingly generous quenelle of bone marrow butter. Lashings of parsley and capers lightened the mouth-load but did nothing to allay concerns for my arteries. You could not eat this every day, but you should definitely try it once.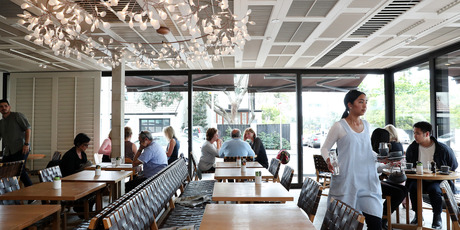 Double-down with a brick-sized slab of chicken liver parfait ($24). Actually, don't. It comes with six slices of bread and at this point you're probably hoping the guy with the extra house on Waiheke is also a cardiothoracic surgeon.
Rosie's evening menu is modern bistro at its best - but the onus is on the customer to choose market fish crudo over multiplicities of cream, butter and animal-based protein.
The parfait was good, but got better as it came up to room temperature; texturally, it was slightly sandy - like a baked cheesecake. I prefer chicken liver super-smooth or rustically chunky and this was a bit too in-betweeny. There was a tonne of the stuff. We'd been warned the entrees were large and next time I'd definitely share.
Vegetarian friends came here for an anniversary and I presume they went big on their first course (options include a cauliflower chickpea fritter, burrata, etc) because five of the six mains were meat, the sixth was fish, and the special of the day was an octopus and fermented chilli pasta.
As previously noted, it was meat-eating weather - though my short-rib barely required teeth. The tender beef had been slipped off the bone and paired with cauliflower done approximately 57 ways which, I suppose, is one way of ensuring 9-year-olds eat their veg.
James had the venison and beetroot and again the portions were extremely generous. The seared rare loin was perfect, dense and iron-rich against sweet beet and bitter radicchio leaves. Possibly somebody could have warned us we'd ordered too much maroon - the same vegetables featured in a zingy little $7 side of grilled radish (the closest Rosie got to a salad on the night of our visit and a good argument for letting your kids grow radishes - plant now, barbecue in three weeks).
The dessert menu is short, and the listed mousse ($15) was being trialled as an olive oil-coated ganache (something a bit fresher for spring, explained the waitperson). The chocolate melted quickly against deep-fried doughnuts. I crossed my fingers the oyster-eating teenagers were cardiothoracic surgeons in training.