Waimauku brunch spot worth hunting down
Section

Publish Date

Friday, 15 December 2017, 2:27PM
SET UP & SITE
Ah, a Sunday drive in the wine country. Enviously admire the mansions and manicured lawns and rows of palm trees of Coatesville. Note all the vineyards you promise yourself you will return to for lunch some time. Smile at the horses posing statuesquely on a rolling hilltop, silhouetted against early morning sunshine. Carefully negotiate the pelotons of Tour de France fantasists. Arrive at Waimauku Hunting Lodge and discover you have to book for breakfast and no, they can't fit you in. Phone ahead next time. Get no answer, email and get no answer. Phone again and get no answer and finally book with a flustered staffer who picks up the phone. Repeat.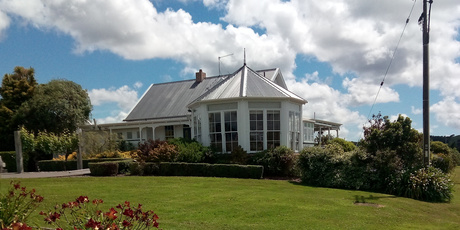 SUSTENANCE & SWILL
The limited breakfast menu is heavy on the hearty: beef cheeks and duck eggs are prominent. The teenager struggled to make her choice, and after a moccachino ($4) that could have been hotter, settled on lardo fried eggs with boudin noir and cherry ketchup ($22). First she had to clarify that lardo is not what it sounds like but a type of salami. I ordered the potato rosti and duck heart sauce with a fried duck egg and duck prosciutto ($22). Both meals were indeed hearty and very, very rich. And absolutely divine. My duck was deliciously earthy, without the strong flavour of the wild flesh. The teen's palate was stretched a little beyond her comfort zone — she only took the smallest sampling of the crumbly, mouth-warmingly spicy boudin noir — but new and interesting is not a bad thing. And luckily I was there to help her finish it.
SERVICE & OTHER STUFF
The door opened in front of us as we ascended the steps to the pretty little villa that houses the Hunting Lodge's restaurant. We opted to sit outside on an early summer morning, which was of course an immediate invitation for the temperature to drop and the breeze to rise. So we enjoyed the view over the newly planted vineyards in the valley below for only a few minutes before we moved inside. The service was friendly and attentive and once Waimauku Hunting Lodge sorts out its bookings procedures it will get a five out of five from me.