The city café that will have you chuffed
Author

Section

Publish Date

Sunday, 5 November 2017, 10:56AM
Set up & site
Usually I take a friend with me for brunch reviews, because it makes me seem generous even though Canvas is paying, and two people means two dishes to report back on giving twice the value to you, dear reader.
But I've been to Chuffed before, and for this review I wanted to go solo. Right in the heart of High St, Chuffed's seating is almost entirely out the back on a charming little deck with views to the graffitied concrete walls and otherwise hidden trees living between city high rises. It's the perfect place to nestle in with the paper for a leisurely breakfast.
Sustenance & swill
Looking at Chuffed's inventive menu, the gin and juniper salmon with beetroot puree, avocado and lemon was tempting, but I couldn't quite abide something so savoury being served on a crumpet ($17), so instead opted for a Spanish-style omelette ($19). It came studded with rounds of chorizo, transparent but punchy slivers of Manchego cheese, blobs of onion jam and caper berries, served with a slice of sourdough toast. The chorizo's spicy fat had spread itself over the plate-sized egg, and the sweetness of the onion jam was perfectly balanced by the salty hit of the caper berries. The flat white ($4.50) I started with and the Americano with cream ($4.30) I finished with were both perfect, the only dud note struck by a Portuguese tart ($3.80) whose pastry was chewy and slightly stale.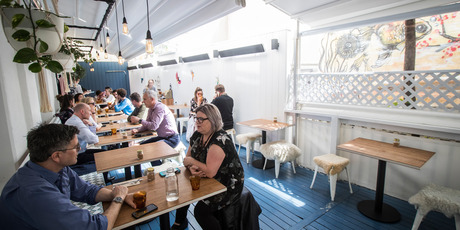 Service & other stuff
Service was mainly swift, although there was a longer delay than usual between my coffee arriving and my food order being taken; staff are friendly and accommodating. My server let me switch to a cosier corner after it was vacated (my own pet peeve while waitressing - what a hypocrite), and let me try a sneaky taste of the smoked tomato hollandaise which comes with their eggs benedict ($14). It tasted like burnt butter with a hint of tomato, delicious. All-in-all I whiled away a lovely hour and a half on the back porch and left feeling ... rather pleased.
Special mention: Chuffed's toilet boasts a magic trick - you pull the door closed behind you, then turn the lock on a door on the opposite side of the room to keep it closed. I'd say it was a bonus for anyone taking kids, but that would be downplaying how much it delighted me, a grown adult.