Slammed on social but is it that bad?
Author

Section

Publish Date

Saturday, 23 September 2017, 3:11PM
"Don't drink and drive," says the note on the menu. "Be nice to your mother. Always support the IHC, Salvation Army, City Mission, and the battlers in life because that's what we do."
At Headquarters, the savannah scotch fillet with chimichurri and parsnip costs $40. The instructions for adulting are free.
At times the messaging is cheesier than a faux craft beer label (the men's bathroom is on the left because women are always right, etc) but the restaurateur is Leo Molloy. Monsieur Molloy is a man with an opinion and he is routinely unafraid to share it.
Very recently, Molloy made headlines via an "epic" online stoush with a former MasterChef contestant who posted a scathing review of this new Viaduct eatery. I don't know what the complainant ordered, but you should look no further than the spice-rubbed chook ($38).
Winner, winner, chicken dinner. When I say the flesh was waxen, I mean that in the plumpest, most toothsome manner possible. Our waitperson confirmed the bird had been brined for a day, before taking a slow turn on the rotisserie.
It came with one of my all-time-favourite food combos: crispy slaw and mushy mash. We'd started with sardines on toast ($18), a brilliant little entree that included grilled grapes and ran the full flavour gamut - smoky, sweet, creamy, sour and salty. We split the single toast three ways (tricky, but not impossible) and I can't remember the last time three square centimetres of food walloped that many taste buds.
Tuna tartare ($20) was less of a revelation. Lovely spikes of kaffir lime, but the pickled watermelon rind added nothing beyond weird texture and the addition of fish sauce at some point (I hope it was fish sauce) gave what should have been a clean, fresh dish more pungency than was decent.
Headquarters is billed as a pop-up. This is a bit like calling the Sphinx a statue of a cat. The restaurant is monumental in size and scope. The bar boasts a 5m by 2.8m screen, the venue hosts up to 300 for functions and the tenancy will extend through to New Zealand's defence of the America's Cup. The furniture is stub-your-toe solid.
On a midweek lunchtime, we took a veranda seat and donned sunglasses against the glare bouncing off the keel estate. The service was friendly and fast, possibly because the menu spares the waitperson a long spiel about shared dishes. At Headquarters, you get your own plate.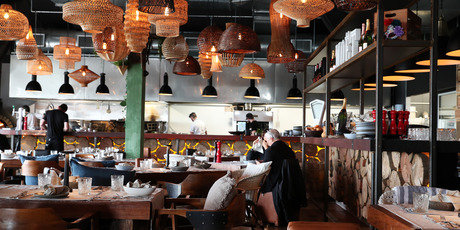 Mine came with pork belly ($38) and a rich, sweet date puree. The meat was crispy and soft in all the right places, but pops of puffed buckwheat were distracting. I had regrets. Okay, to be totally honest, it was that chicken was distracting. I had food envy.
Michelle's lamb rump ($38) was garden-pretty and barbecue-tasty, as befitting a kitchen that goes big on burning. The halloumi is wood-roasted, the yams are charcoal-roasted, and even the caviar on the tuna tartare is smoked (in my opinion, it lacked pop).
The serves are big. Too big, really, to justify three courses at lunchtime. Enter the pavlova, that dessert famously named for a ballerina who was lighter than air. How did that air ($15) taste? Pretty amazing with a tonne of whipped cream, two types of kiwifruit and a splodge of lemon curd.
We were three ladies who had very deliciously lunched. But if you have lunch at the Viaduct and don't spot a minor celeb did you really have lunch at the Viaduct? I turned to pay the bill and there she was. Teeny-tiny Anne Batley-Barton, the champagne-guzzling star of Real Housewives of Auckland.
Tick.
Address: 115 Customs St West, Viaduct. Ph: (09) 394 7300 Rating out of 10: Food: 8.5 Service: 8.5 Value: 8 Ambience: 8.5 We spent: $239 for three