Sid at The French Cafe: Our verdict
Section

Publish Date

Wednesday, 31 October 2018, 1:47PM
Sid at The French Cafe 210 Symonds St, Eden Terrace Ph: (09) 377 1911 We thought: 18 - great We spent: $1000 for four (tasting menu with premium wines)
Sid at The French Cafe is exactly what it says on the tin - acclaimed chef Sid Sahrawat at the helm of a longstanding temple of fine dining.
The most literally named restaurant in the book should, by very definition, also be one of Auckland's most exciting.
So what went wrong?
To be clear, it was far from terrible. Some of the dishes we ate were extraordinary. And, actually, even the ones we didn't like were still extraordinary. At this level, you want to be challenged. What you don't want is to be taken for granted.
We ordered Champagne. Proper $210 Taittinger. Perhaps this is normal by French Cafe standards but in my world it denotes A Very Special Occasion. An unobtrusive "are you celebrating?" (we were) would not have been out of place.
The service warmed when we met Hiro, the sommelier who took us through our $125 premium wine pairing but the food delivery felt, at times, transactional. The best high-end restaurants cast you as co-conspirator. They reward you for simply showing up at their place instead of someone else's and, by dessert you're not even blinking when they suggest a $20-a-head cheese interlude. Anything to prolong the inevitable return to your real life.
Our 8.30pm table (and good luck to anyone wanting to eat any earlier this side of Christmas) was in the restaurant's first dining space. It's a long and relatively unadorned room. The Karl Maughan painting is gone and the vibe is hotel lobby meets corporate office. The food comes from somewhere out the back. That separation (for those eating out the front) needs to be addressed. I don't require the chef to show me to my seat, but at this early stage of The French Cafe's reincarnation, an emotional connection between kitchen and customer must be established.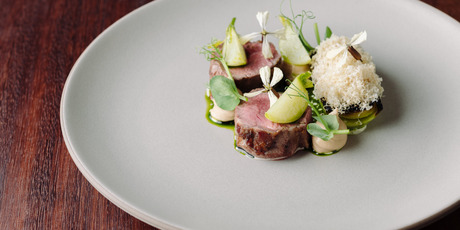 You are, after all, paying for something special. A three-course a la carte dinner will set you back $110 a head; the six-course tasting menu with paired wines starts at $250 and pushes up to $305 with cheese and premium drinks. The first course of your degustation is referred to as a "gift" from the kitchen but, at these prices, you be the judge.
I truly love this moment in a degustation, when the chefs show off and your palate must shift up a gear to accommodate it. Here, mini meringues melted like savoury clouds and sheep's cheese sparkled on a tiny tartlet. A smoky-salty-sweet cone of date puree and fish was whimsically reminiscent of a rashun-cheezel-twistie, et al. The most transcendent moment came from a ceramic beaker of consomme-clear shiitake broth that, we all agreed, we would happily swim in.
The clean, pure notes continued with raw kingfish under an elegant circle of pickled ginger jelly. The wine match was a 24-year-old French riesling. I cannot remember a restaurant dish that has made me feel more like a grown-up.
Unfortunately, what happened next was that somebody burned the vege. Presumably on purpose but our table was united in its dislike of a stack of thinly sliced carrots scorched bitter, with a smoked yoghurt that amplified the wrongness.
Did we scrape our plates clean? Of course. You must eat the entirety to do justice to the complexity. Take the scampi. Startlingly sweet (hello, vanilla) then paired with powdered spruce and an emulsion of lovage. The latter is sometimes called sea parsley, but that's like comparing a granny smith to a golden delicious. Astringent, grassy, austere. A surprising dish, but such a shame for the scampi.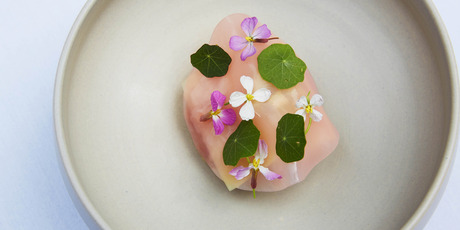 I have forgotten to tell you about the bread. Housemade sourdough was delicious (not too crusty) and the cultured butter with a "salt" of crumbled chicken skin was pretty much to die for. We were having the best of times and the worst of times.
Meat? I'd asked for a menu and the one that had been delivered to our table promised mushrooms and nasturtiums, but there is a higher power and (praise be) it brought pork. The best pork any of us have ever eaten. Lacquered skin, creamy celeriac, spiky horseradish and (surprise!) kaffir lime. Swoon.
I won't go on about the lamb (really great) but I will recommend the green apple and passionfruit finale, in which sorbet met icecream met granita. They might need to work on the warmth in the dining room, but dessert was stone-cold sexy.