Restaurant review: Dr Rudi's Rooftop Brewing Company
Author

Section

Publish Date

Saturday, 9 December 2017, 1:43PM
There is a lot of teeth and tan at #drrudis.
I scrolled through 100 Instagram posts from the Viaduct bar. I found just six featuring folk who might have been over the age of 40.
Was I too old for this assignment? Does my earlier use of the word "folk" render this question redundant?
Anyway, we went to the Viaduct. Seven women with excellent skincare regimes and solid dental plans. We wore extensively ripped jeans and exquisitely tailored white pants. A bottle of rosé. A slug of vodka. One cocktail! Two cocktails! It was hot, but we were hotter. Beer! It was almost 5pm.
I jest. There is no rule that says grown-ups can't drink at the Viaduct and, anyway, not everything you see on Instagram is real. For example, as we left Dr Rudi's we saw a man with almost no teeth. It's a harbour. Flotsam and jetsam is bound to get in.
We'd actually tried to get into Dr Rudi's a year ago, when it was newly opened and much-hyped. That night we took one look at the seething crowd and decamped to a bar that gave us terrible service and has since closed down. Dr Rudi's has lasted the distance, but I don't think that's because of the service — which is of the busy-noisy-bar kind: occasionally good, often missing in action.
We'd planned our pre-5pm arrival because we wanted to guarantee a sea view for our pre-Christmas catch-up. It is a spectacular location, overlooking the very moneyed masts of yachties who can afford a $265,000 inner harbour parking spot (actual Trade Me listing — comes with three actual car parking spots).
The sun was screaming on to the deck. We lasted 15 minutes before declaring deep-fried defeat. The group that gleefully grabbed our table followed us inside five minutes later. Will global warming be the death of Instagram? (Silver linings, etc.)
The menu looked good. Four types of ribs, kombucha-baked warehou and a $175 "ocean platter" with scampi, oysters and tonnes more. But if it can be battered, Dr Rudi's has. Were you sick of seasonally fresh, lightly steamed asparagus with a sprinkle of sea salt and a soupcon of butter? Oh, me too. Totally.
Anyway, we went to the Viaduct and had tempura-battered asparagus ($12.50), brie-stuffed and beer-battered jalapeno chillis ($16) and twice-cooked bites of belly pork ($19.50) that had definitely been deep-fried.
We also had the beer-battered pickles ($8) with fresh lime and housemade ranch dipping sauce ($8), but we asked for the skin-on french fries ($9.50) because everybody knows that's where all the fibre is.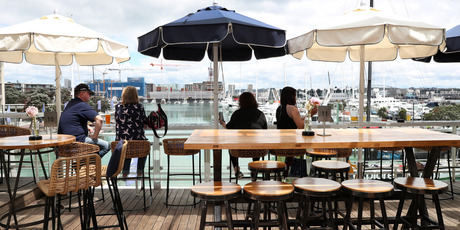 It was a fry-fest, but when you are drinking in the afternoon sun, an heirloom salad with cucumber ribbons, pulled mozzarella, basil and brown vinegar dressing ($17) is not responsible eating. The other saving grace? The food did not look like it had come from a mass-produced packet. All that battering appeared to be as in-house as the beer. The jalapenos were the biggest of their kind I've seen; those pickles were actually really delightful.
Pizza also looked good (it comes by the foot and was very popular with the post-work tables of 30-somethings in suits and heels) but we'd gone for chicken wings ($18) and seared kingfish sliders ($20). The former were salty, the latter overpowered by an overly oily blend of aioli and tartare. I had high hopes for a rosemary and garlic-crumbed, balsamic-marinated mushroom ($18), but six out of seven doubted they would order it again.
And the drink? Terra Sancta might have a social media-friendly label, but $70 is an expensive rosé. Two lychee cups ($18) tasted like two different cocktails — one was a perfect expression of that distinctive rose-scented fruit, the other was too sweet and lime-soaked.
The best service we got was from a bartender flogging those house-brewed beers. He organised a waitperson when none could be found, replaced our water glasses when they failed to survive the shift inside and cheerfully offered samples of pale ale and lager. Michelle settled on the latter. It went perfectly with all that beer batter.