Restaurant review: Ain't No Taco
Author

Section

Publish Date

Saturday, 9 September 2017, 3:22PM
Address: 187 Symonds St, Eden Terrace Phone: (09) 303 0180 Rating out of 10: Food: 7.5 Service: 8 Value: 8 Ambience: 7.5 We spent: $104 for two
---
Once upon a time you could sprinkle a handful of grated cheese on a can of kidney beans and call it Mexican.
Make-it-yourself meal kits educated us in the way of the taco: a shell so crisp it shattered at first bite; lettuce so shredded you could have piled it with prawns and called it 1979.
Then the food trucks came and the restaurants opened. We learned to pronounce chipotle and ancho and discovered there were tequilas for sipping, not slamming.
We were artisanally corn-mealed and authentically hot-sauced. What next?
Introducing the karaage chicken taco. Succulent fried thigh, sweet Japanese mayo, tangy barbecue sauce, fresh slaw and spring onions. And if you're thinking that Ain't No Taco, you'd be grammatically challenged, but literally correct. The genius of calling your restaurant Ain't No Taco is you can stuff that non-taco with whatever you want - including Japanese fried chicken.
We visited this little cutie of a Symonds St restaurant on a Saturday night, when the clientele included couples doing gooey things with guacamole, melted cheese and jalapeno ($12) and cool kids in the booth seats. The wall murals are by Flox, the cutlery is stashed in vintage golden syrup tins and the menu calls spring onions "scallions". Forgive these small hipster indulgences, because the food is good.
We started with Korean fried wings ($11 for six). They were free-range, crispy and coated in a funky chilli ferment that held its own a potentially lethal Feij-hola, aka a $14 triple-threat of tequila, rum and vodka.
The wine (cheap) is, simply "house", but our waitperson was unable to tell us which particular house. She was similarly clueless about the market fish ("I don't know, but I know there's not much left") and was unsure what, exactly, made the chocolate mousse vegan.
"I can go find out," she said, three times, but, sadly, that can-do attitude did not translate to actual action.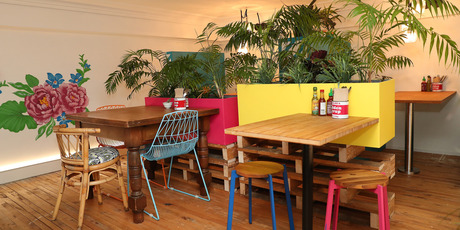 There are five types of taco on the menu, and (this is not a typo) 60 different hot sauces to douse them with. In fact, we were mostly happy with everything exactly as it came from the kitchen - not too hot and spicy, but not too boring.
Build your own bowl (chickpeas, maple miso kumara, jalapenos, cashews, etc) and vegetarians rejoice, because one of the protein options is a jerk tofu.
Order folded soft tacos in sets of two ($12-$14) or three ($17-$19), but pace yourself - the daikon pickle in our bulgogi pork version ($13) had soaked right through the corn tortilla before we got to it. I liked the collision of sweet, sticky meat and earthy cornmeal, but the knife and fork delivery felt wrong.
Smoked beef was tender, but oddly one-dimensional with pickled onion that needed more sour and less sweet. This would have been a good time to visit the wall of fire, but it was downstairs and we were upstairs and ... absolutely, we'll have dessert, thanks.
The vegan mousse ($11) was decadent, dark and delicious, but it was not a patch on the deep-fried, cinnamon-dusted fruit and custard chimichanga ($9). It's an apple pie, but also a burrito. Only a monster would deny this union.