Bubble masks: The worst face treatment ever?
Section

Publish Date

Friday, 24 November 2017, 12:23PM
This was one of NZH Lifestyle's top stories for 2017
Follow NZH Lifestyle's Trial and Error series where we try out the latest in food, viral trends, and beauty hacks so you don't have to.
Bubble masks are popping up all over Instagram as well as in the new skincare ranges from mainstream beauty brands such as Clinique, e.l.f and Sephora.
While the products offered by makeup companies are more pared back versions of some extremely frothy face masks, the Trial and Error team don't do things by halves, so we went for the original Elizavecca Milky Piggy carbonated bubble clay mask, from Korea.
The mask promised to have "adsorptive power to clean up the skin wastes, carbonic acid and mud resolve pore cleansing in onestop" and to make skin "moist and smooth with bonatical moisture ingredient [sic]."
With such a nonsensical description full of typos, the team decided to proceed without referring to the instructions.
The team went all in, slathering on the grey goop and waiting for the bubbles to work their purported magic.
RESULTS
Cam was the first to notice results which reminded Rebecca of Robin Williams in Mrs Doubtfire.
The trio happily applied the masks and waited for the effects. When it came time to remove the product, Rebecca's world fell apart. Along with her face.
Unable to wipe off the mask unaided, the grey bubbled muck started falling off her face and found its way into her hair, eyes, nostrils and mouth.
A glance in the mirror saw her exclaim: "Oh wow. I'm an animal!"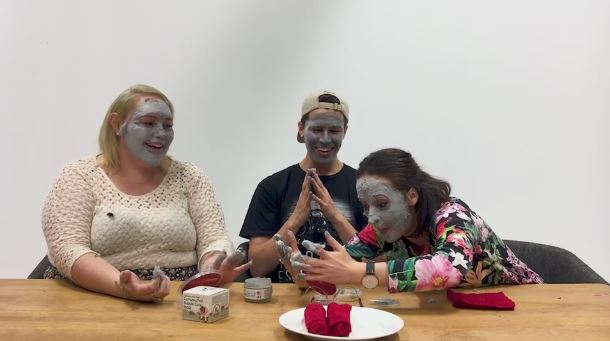 Several excruciating minutes later, the team managed to remove their masks and proceeded to assess the results. Liana and Cam both noted their skin felt soft and smooth.
Rebecca felt the process had done nothing but age her.
VERDICT
Given her ordeal, Rebecca advised that one should never "go all in". She quickly concluded that the mask was not for her.
Liana had a different view: "I kinda dig it. It feels very smooth," she said, adding that she enjoyed the bubbly effect.
Cam's advice for those still interested in giving the mask a go is to use it in privacy of your own home - where you can wash your face off properly. Again, Rebecca only saw disaster in this suggestion, given the intervention she required in the studio trial.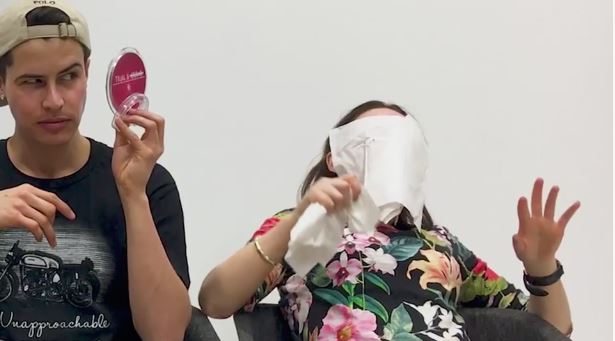 While Liana and Cam gave the bubble mask a thumbs up, Rebecca gave it two thumbs down, before deciding that wasn't enough, and instead giving it "all the thumbs down".