Brunch: Raw Kitchen roaring with health
Author

Section

Publish Date

Friday, 5 January 2018, 3:08PM
SET UP & SITE
Let's start with what the Raw Kitchen is not, and that's hot. The clue is in the name I suppose, but if I'm being perfectly honest, a cold brunch isn't a patch on a plate of piping hot eggs and hash browns. I was struggling to think why it was even open on a Saturday morning when my boyfriend pointed out the steady stream of legging-clad fitness enthusiasts passing through from the nearby Les Mills, picking up a juice or chia cup to slurp from one hand while clutching gym gear in the other. This is not where you come to spread out with the Saturday paper, luxuriating in a lazy morning. I don't think the Raw Kitchen's target market is ever lazy. The Raw Kitchen has two locations and we went to the City Works Depot spot. It is concrete and very pretty but unfortunately doesn't catch any sun until at least 9.30am, when we left.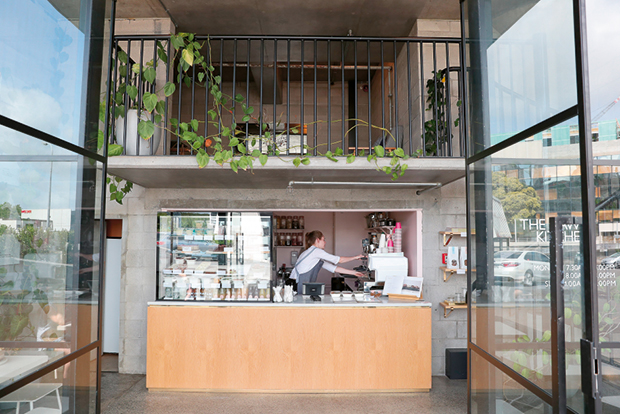 SUSTENANCE & SWILL
We ordered a green longevity juice ($9) which had a spicy, gingery flavour; a slice of avocado on Midnight Baker freedom loaf with cherry tomatoes ($6) — the most traditional brunch fare and my favourite savoury item — and a buddha bowl ($15) featuring a mix of Italian zoodles (zucchini noodles with smoky paprika walnut "meatballs") and a Moroccan salad of cauliflower rice, carrot, hazelnut, tahini and spices. Everything had an undercurrent of earthiness — it tastes exactly how you expect stereotypically "healthy" food would. To finish we shared a slice of banoffee cake made from banana, date, coconut oil and various other healthy ingredients ($8), deemed the nicest "because it tastes the most like the thing it's supposed to be", and a date-based chocolate donut ($8) with freeze-dried raspberry. The donut, like most raw baking, is very dense. This is good because it's filling but frankly less enjoyable to eat than an airy, gluten-filled ring of sugary dough. My flat white ($4.50) offered a welcome temperature variation and was creamy and delicious.
SERVICE & OTHER STUFF
The service is simple but friendly. There's no table service and only about three or four tables — it's really more geared toward to-go food. You can't fault them for that and you can't fault a raw kitchen for making raw, very obviously healthy food. Whether you enjoy that on not depends on whether that's what you're after.