Brunch: Deli-cious eats day and night
Author

Section

Publish Date

Sunday, 15 April 2018, 3:24PM
Set up & site:
Adjacent to the Sky Tower, the Fed Deli is right in the heart of Auckland's CBD. A small selection of wooden tables outside offer perfect viewing of those mad enough to jump from the top of the Southern Hemisphere's tallest tower. Inside, there's a deep row of booths, small tables, high tables or a counter seat, catering for solo diners up to groups of four, or six at a real squeeze. The fit-out is cosy in a way that is familiar while being technically foreign — the food and the vibe of the place is based on what you'd find on offer at a New York diner. Next door is sister store Depot, also owned by celebrity chef Al Brown — the two are so close they share a set of toilets.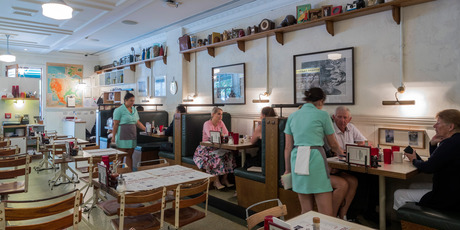 Sustenance & swill:
If you've heard of Fed Deli, you know about its poutine. A plate piled high with gravy and stringy cheese curds, the dish is a masterclass in indulgent comfort food. Most of my trips to the Fed are made alone after a late shift, and I'm surprised to see such a heavy side is on offer for breakfast. After briefly toying with the idea of ordering a serve at 10am, we decide doing so would be a disservice to Canvas' readers, who are more likely to have already tried the poutine than anything else on the menu. So my friend and I share a plate of potato hash with smoked fish, peas and a squeeze of lemon ($21); a rich and delicious plate of carbs soaking in fat, the peas offering bursts of sweet flavour and the fish falling apart on our forks. In a snap decision I later regret, we also order a side of latkes with creme fraiche ($7), two oily discs of shredded potato that are deliciously crispy on the edges but by the middle, and with the hash on the table as well, entirely too much potato for two people. The star of the show was for me the chicken salad sandwich with crispy chicken skin and a side of gravy ($16). Despite the gravy dipping sauce, the sandwich is lighter than our other dishes. A classic chicken salad filling of meat mixed with mayo and chopped veges between two slices of a seeded loaf, it's simple but perfect. I may have returned the next day to order another one. We each order a cup of Fed Deli's bottomless filter coffees ($4), with cream on the side — because why not? We leave very full and slightly over-caffeinated.
Service & other stuff:
Fed Deli does what it does very well and staff are friendly and efficient. There was a slightly longer wait than I might have expected on our food, but I suspect we ordered just as the brunch rush hit. You've got to be reasonable about that.