Where Eric Clapton disappeared to for a year
Section

Publish Date

Saturday, 13 January 2018, 3:01PM
He was left distraught when his four-year-old son Conor fell to his death from the 53rd floor of a New York skyscraper in a horrific freak accident in 1991.
And Eric Clapton has now opened up about his heart-rending grief in the aftermath of the tragedy, revealing he flew to Antigua to spend a year living as a recluse.
The musical legend, 72, isolated himself on the Caribbean island and threw himself into writing songs in a desperate attempt to 'heal' himself, reports Daily Mail.
Eric opened up about his grieving process in an interview with presenter Liz Barnes for Planet Rock, to speak about the film A Life in 12 Bars, which documents his life.
Conor died on March 20, 1991 when he fell out of a window that a cleaner left open in the Manhattan flat his mother, Italian model Lory Del Santo was renting.
Recalling the gut-wrenching days after Conor's death, Eric said: "I brought him home from New York with all of the Italian side of his mother's family and we went through the process of the funeral."
He explained that after the funeral, he rented a cottage in Antigua where he spent almost a year playing his guitar and barely communicating with the outside world.
"When they left, I had this little Spanish string guitar, I became attached to that I went off to Antigua and I rented a little cottage there in a community and I just swatted mosquitos all day and played this guitar and stayed there for almost a whole year, without much contact with the outside world, and I tried to heal myself," he said.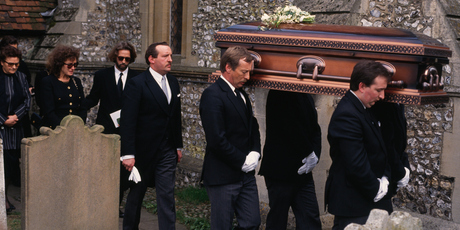 "All I could do was play and write these songs and I re-wrote and re-performed them again and again and again and again until I felt like I had made some sort of move towards the surface of my being and then I was able to come out."
The rock guitarist had received a heartbreaking love letter from Conor just hours after the child's funeral.
The youngster had written his first letter to his father days before the accident and his mum Lory, posted it to Clapton's London home - arriving after the child's death.
Lory said: "The baby had learned to write a few words and he said to me, 'Oh mummy, I want to write a letter to daddy, what shall I write?' I told him, 'Well, write, I love you'. He wrote that and we posted it like a regular letter.
"After Conor died, Eric and I arrived in London for the funeral. I was there when Eric received his mail just after the funeral and he opened it up and it was Conor's letter. That is a moment I cannot forget."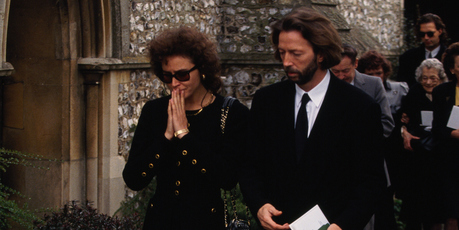 Clapton dedicated his song Tears in Heaven to Conor. It won three Grammy Awards for Best Pop Vocal Performance, Male, Song of the Year, and Record of the Year.
Eric has a daughter Ruth, 33, with ex Yvonne Kelly. He has three other daughters with his current wife Melia McEnery - Julie, 16, Ella, 14, and Sophia, 12.
Clapton also opened up about meeting Jimi Hendrix in the interview, revealing they performed together in a moment that is 'historic' in his mind.
"The first time I met Jimi he came the London Polytechnic and Cream were playing there. We got up on stage and then Chas Chandler said, 'I've got this friend who would love to jam,'" he recalled.
"It was funny those days, anybody could get up with anybody if you were convincing enough that you could play. He got up and blew everyone's mind and me too, I just thought, 'Ah, someone that plays the stuff I love, in the flesh, on stage with me.'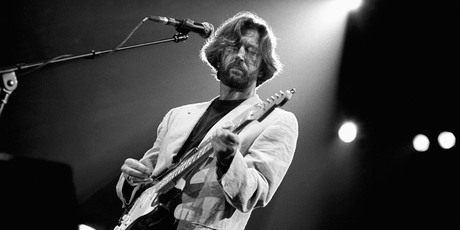 "I was actually privileged and it's something that no-one's ever going to beat, that incident, that night. I mean, it's historic in my mind but only a few people are alive that would remember it," he admitted.
Now teetotal for nearly three decades, Eric revealed in the highly-anticipated documentary that he would drink a bottle of cognac by midday, before snorting cocaine from a knife by lunch.
His spiralling addictions caused him to threatened not only his loyal following but wrecked his romance with ex Pattie Boyd during the tumultuous period in his life.
Talking about trying to win her over, he admitted: "I wanted her to be impressed and I wanted her. I thought this might seal some kind of commitment that I don't think I was able to actually commit myself, but I wanted her to commit, to do the hard work.
"I think we went on for a little while longer trying to figure out what to do and then the end of that was when I said, "Well if you can't make a decision about whether to be with me or not, I'm going to just get stoned out of my mind and disappear from the face of the earth." I mean, very childish stuff.
"I think she's probably very conscious of the fact that she's inspired all of these songs, you know, Wonderful Tonight and Something and Layla and a lot of songs on the Layla album, although they're not directly identifiable as being inspired by her, they were. Maybe it was a channel that I needed, maybe it was a focus that I needed, who knows."