Weather girl charged over brawl with TV anchor
Section

Publish Date

Saturday, 1 September 2018, 10:08AM
A meteorologist at a West Virginia TV station is accused of shoving a news anchor and fracturing her skull.
A criminal complaint says Chelsea Ambriz, 26, who works as an on-air forecaster for WSAZ-TV, shoved station anchor Erica Bivens on Sunday. She is charged with misdemeanor battery.
The complaint says Bivens suffered a ruptured ear drum and skull fracture in the fight.
The co-workers got into the brawl at a bar after Bivens thought Ambriz was hitting on her husband.
She confronted Ambriz, who became angry and allegedly shoved Bivens.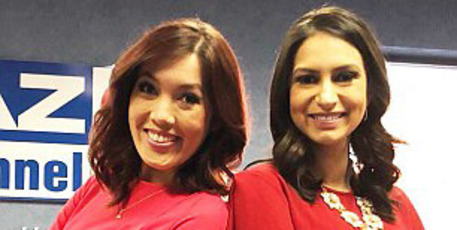 Ambriz is set to appear in court September 21.
It's unclear if she has a lawyer that can be contacted for comment.
The Charleston Gazette-Mail reported Ambriz could face 'up to a year in jail and/or a fine of no more than $500' if she's found guilty.
Bivens shared on Facebook that she was now at home recovering from her injuries and "waiting for doctors to clear me so I can get back to work".