Thrones star joked about 'raping beautiful women'
Section

Publish Date

Friday, 13 October 2017, 10:10AM
A Game of Thrones star was caught on tape telling a crowd he loved his job because he got to "rape beautiful women".
The footage, recorded at a Comic Con convention in San Diego in 2011, has surfaced following a barrage of sexual abuse allegations aimed at disgraced movie boss Harvey Weinstein.
The comment was made by Jason Momoa, who played Daenerys' wife Khal Drogo in season one of the hit HBO show.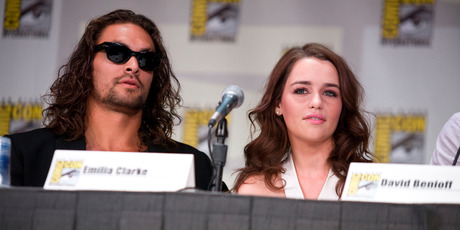 "But as far as sci-fi and fantasy, I love that genre because there are so many things you can do, like rip someone's tongue out of their throat and get away with it and rape beautiful women," he told the audience.
Some of his fellow stars, including Lena Headey and Emilia Clarke, can be seen looking awkward, covering their faces or hanging their heads after his comment.
Watch it below:
tw: rape

a horrific clip of jason momoa saying he loved working on #gameofthrones bc he "got to rape beautiful women." men are trash. pic.twitter.com/K2RBmsWEt6

— elizabeth (@peeanofreek) October 12, 2017
Momoa expanded on his comments in a follow-up interview with the New York Post.
"Yeah, I'm raping Emillia (Clarke). I love her, but I'm hurting her and she's crying. We could have made it longer, but you get the idea. I'm not a rapist. I prefer my women to enjoy sex."
He also told Celebitchy: "...I'm not a rapist. It really did not feel good. There was no enjoyment. I don't like women crying when I'm making love to them."
The video has been shared widely on social media since Weinstein's downfall, with one user calling it "horrific".
I expected better from @_jasonmomoa than to make fun of raping women

— Angela Winkleman (@PaganAngel1982) October 12, 2017
Others defended the clip, saying it was old and it was referring to his character in the show.
Momoa is set to star as Aquaman in DC's upcoming Justice League film, as well as a stand-alone Aquaman film.
Justice League also stars Ben Affleck, who apologised yesterday over a groping incident during a TV interview in 2003 with Hilarie Burton.