T.J. Miller charged with making bomb report on train
Section

Publish Date

Wednesday, 11 April 2018, 8:11AM
Former Silicon Valley star TJ Miller has been arrested at an airport in New York City after he allegedly provided false information to federal agents regarding a bomb threat made last month.
The comedian was escorted out of LaGuardia Airport by Port Authority officers and FBI agents Monday night around 10pm according to DailyMail.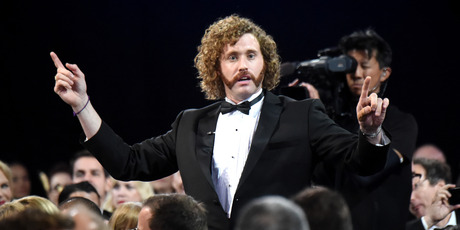 Miller has been charged with 'intentionally conveying to law enforcement false information about an explosive device on a train travelling to Connecticut', according to the US Attorney for the District of Connecticut.
His arrest stemmed from a criminal complaint that claimed Miller called a 911 dispatcher in New Jersey on March 18 and reported that he was on an Amtrak train with a female passenger who had 'a bomb in her bag'.
Miller was travelling from Washington, DC, to Penn Station in New York City when he allegedly made the call.
According to authorities, Miller said the woman 'kept checking her bag without taking anything out; kept asking the First Class attendant what the next stop was, and seemed to want to get off the train and leave her bag behind'.
At the time of the call, the dispatcher detected slurring in the comedian's voice and asked if he had consumed alcohol that day.
Miller reportedly replied that he had 'one glass of red wine'.
When the dispatcher asked Miller if he suffered from mental illness, Miller replied 'no, absolutely not. This is the first time I've ever made a call like this before. I am worried for everyone on that train. Someone has to check that lady out.'
Investigators stopped and searched the train in Connecticut, but found no evidence of any explosive device or materials.
Authorities later interviewed an attendant from the first class car where Miller had been sitting.
The attendant told investigators that Miller appeared intoxicated upon boarding in Washington, that he consumed multiple drinks on the train, and that he had been removed in New York owing to his intoxication.
The attendant also claimed that Miller had been involved in 'hostile exchanges with a woman who was sitting in a different row from him in the first class car'.
The charge carries a maximum term of imprisonment of five years. The case is being investigated by the Federal Bureau of Investigation's Joint Terrorism Task Force, Connecticut State Police, Metropolitan Transportation Authority Police Department, Amtrak Police Department and Westport Police Department.
A request for comment to Miller's representative was not immediately returned.
Miller was in Canada last week where he did multiple stand-up comedy shows from April 5-8 at Rick Bronson's - The Comic Strip in Edmonton, Alberta, Canada.
Miller, who left the HBO comedy series Silicon Valley last year, was released from custody Tuesday morning after posting $100,000 bond.
Last month, the cast and creator of the series revealed that him leaving the show was a move that was very much a mutual decision.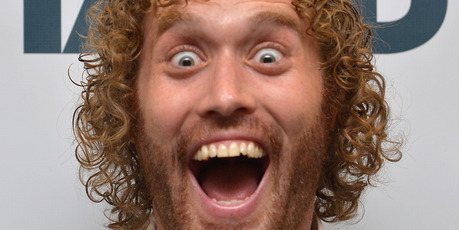 'There had been stretches when, multiple show sources say, he looked to have things under control, and others when he'd show up seemingly under the influence, if he showed up at all,' creator Mike Judge told The Hollywood Reporter.
Miller was often late and would sometimes fall asleep on set according to sources, meaning that 'schedules would regularly have to be rejiggered' because of the actor.
Showrunner Alec Berg meanwhile compared the four remaining actors to the [NBA champion] Golden State Warriors, before adding: 'TJ wasn't LeBron.'
Miller responded at the time to that remark by stating: 'Oh, that's great. And it makes me like him more [because] he's so good at being an a**hole.'
He did not deny Judge's allegations but did push back on the idea that he was constantly under the influence while on the set.
'In real life, I'm not always high like [his character of the show] Erlich is,' Miller said at the time.
'And this will blow your readers' minds, but I'm not high when I work because it gets in the way of the comedy. I also am not a guy who's blackout drunk, bumping into things on set.'
He went on to blame his tardiness on the fact that he was performing stand-up sets until the early morning hours while still appearing on the show.
'So, the thing I have a problem with? It's pushing myself to do too much,' said Miller.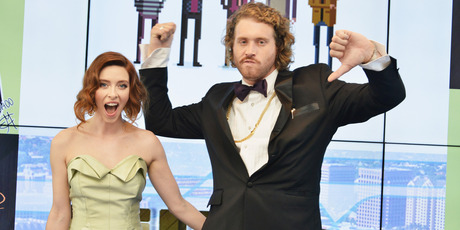 Judge revealed in March that Miller was not offered a full-time role in the final season either, with the show's producers instead saying he could appear in three episodes before his character would be written off the series.
Miller declined that offer and left after season four. Miller is also dealing with additional fallout after he was accused of multiple offenses by a former college classmate back in December.
He was accused of beating and sexually assaulting a woman in college, with the alleged victim telling The Daily Beast that he punched her in the face during sex and raped her with a beer bottle.