Star arrested after mid-flight meltdown
Section

Publish Date

Tuesday, 10 July 2018, 1:08PM
Jonathan Rhys Meyers has allegedly been detained by police at LAX airport after engaging in a "verbal dispute" with his wife.
The 40-year-old actor is believed to have been arguing with his wife of two years Mara Lane - with whom he has 18-month-old son Wolf - on a flight from Miami to Los Angeles on Sunday (08.07.18), which lead to his brief detainment when their plane landed at LAX, according to TMZ.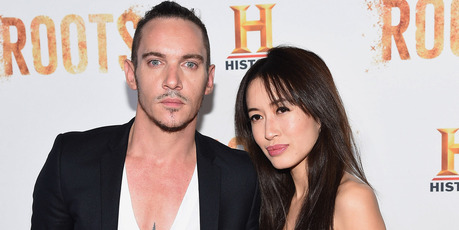 Jonathan was also alleged to have been smoking an e-cigarette whilst on board the flight, and Airport Police Public Information Officer Rob Pedregon confirmed the star stopped what he was doing when he was "advised against" it by a flight attendant.
According to People magazine, Officer Pedregon said: "We had a situation where police received a call for service about a passenger that was arguing with his female companion and possibly smoking.
"Officers met the aircraft at gate upon arrival, detained parties involved and conducted a thorough investigation. We determined a male and his companion were having a verbal dispute during the flight and he got up and took a hit of e-cigarette. He was advised against by a flight attendant it due to a violation of regulations and he complied."
The Officer added that it was "determined no crime was committed and parties were released," while the 'Tudors' actor was "admonished" for using the e-cigarette.
Jonathan has battled substance abuse for years, and relapsed in September after his wife suffered a miscarriage.
Mara revealed the news on Instagram at the time when she wrote:
"Depression is a real concern from past abuse as well as alcoholism which he was born with. He has been able to turn any ugliness and hurt in his life into art and is the strongest person I know. I do not know anyone who has been through what he has been through and reached his level of successes. It does seem though that every time we seem to be making so much progress... sometimes it's like two steps forward, one step back. ... my husband is an Irishman who battles alcoholism and depression and drank between jobs to try to cope with the sadness of this news."