Review: Cher - with killer one-liners - wows Auckland crowd
Author

Section

Publish Date

Saturday, 22 September 2018, 9:46AM
"What's your grandmother doing tonight?" Was 72-year old Cherilyn Sarkisian always this badass? Probably.
She's been famous for so long – virtually as long as any still living, still performing, still relevant superstar on the planet – that it's hard to remember a time when she wasn't successfully reinventing herself.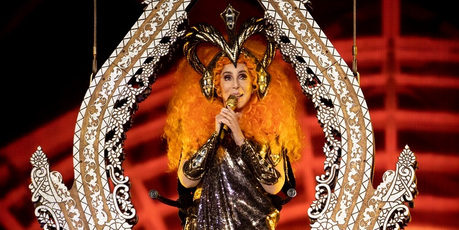 Even in her sixth decade as a performer, she's back as the best Abba tribute act you never knew you needed. Sorry Bjorn Again, but after Cher briefly turned Auckland's sold-out Spark Arena into a Mamma Mia-inspired, late night Greek Islands party, you realised she could do nothing but Abba songs and still have the crowd out of their seats.
As it stands, Cher and that intact, unmistakable contralto kept the Benny and Bjorn songs to three (Waterloo, SOS and a joyful Fernando – all from her soon-to-be-released Abba covers album) and dished up almost 20 other hits from across her career.
Everything from The Beat Goes On to Gypsies, Tramps And Thieves to Believe. In the process, she reminded that "across her career" is just about the most bland way possible to describe the impact and longevity of someone with all three of the holy entertainment triumvirate of an Oscar, an Emmy and a Grammy in her cabinet.
So yes, Cher's near two-hour set did include "hits from across her career", but that does little to convey what a sense of occasion it now feels to see her live.
The last time she was in New Zealand was 13 years ago at North Harbour Stadium with a gig that was more akin to a Kylie Minogue concert. It was all good, sparkly, fantabulous fun, but I'm pleased what was dubbed "The Farewell Tour" proved to be anything but.
Cher summed up the difference between then and now with one of about half a dozen killer one-liners that had the mixed age, diverse-as-diverse-can-be Auckland crowd cracking up.
Before launching into the piece of music that had established her and her late ex-hubby Sonny Bono as one of the 'it' musical and fashion forces of the 60s, I Got You Babe, she explained that until a couple of years ago, it was a song she never did live.
"And then I thought, 'Which farewell tour are you waiting for!? You'll be 500, b*tch!'" Against a backdrop of images of Sonny and performed as vocal duet incorporating his original vocals, the final big screen image of the two of them kissing was unexpectedly poignant. They really did love each other.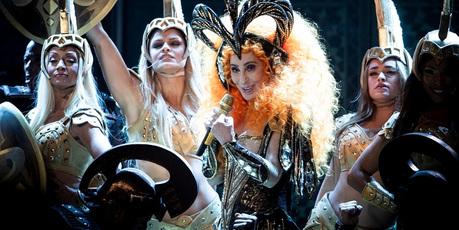 That North Harbour show had been many things, but "poignant" was not one of them. Then, just as last night, there were the staggering costumes, but unlike Katy Perry's recent concerts where the non-stop special effects and set changes served to distract from the music and create a distance between fans and performer, seeing Cher live in 2018 feels oddly intimate.
Whether dressed in hippie-era flares, a glittering ball-gown, Persian robes, gladiator get-up or yes, that iconic, barely-there, fish-net, boots and black leather look from 1989's If I Could Turn Back Time, there was always a connection. And it wasn't lost on anyone that Cher looks as good now as when that video first sent shockwaves almost 30-years ago. As she said, "what's your grandmother doing tonight?"
Tim Roxborogh hosts Newstalk ZB's Weekend Collective Saturdays and Sundays 3pm-6pm.