Meet the 14-year-old making history at Disney
Author

Section

Publish Date

Wednesday, 11 April 2018, 11:20AM
Some kids dream of becoming pop stars, firefighters or doctors, but for one young actor, her dream is simply to make a difference.
Of course, even at 14-years-old Storm Reid is already living a lot of people's dreams. A year ago, she got paid to fly around the world, hang out with superstars like Oprah and became a hero who can teleport to different dimensions.
Well, kind of. She stars in a film called A Wrinkle in Time, in which she plays a young girl called Meg, who learns to teleport - or "tesser" - her way through an epic journey to find her missing father.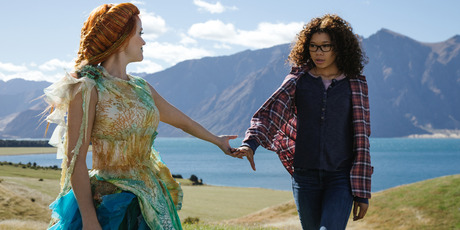 But while Reid's magical power might only be part of the movie, the rest of her dream life is true - she left the United States to come New Zealand for the first time and was stunned by how beautiful our country is.
"The water's just so clear and so blue," says Reid. "I just love it here, I want to come back and stay a long time. I [met some sheep], they're so sweet and I want to take them home with me."
And while even many celebrities dream of meeting Oprah, Reid got to work with her and spend time with her every day - as well as a host of other big Hollywood names.
As well as Oprah Winfrey, Reese Witherspoon and Mindy Kaling also star in the film with Reid as magical beings called Mrs Whatsit, Mrs Which and Mrs Who.
"They're so down to earth and friendly and open," says Reid. "Even though Miss Oprah is one of the most powerful women in the world, she doesn't act that way. She's just a normal lady that loves to act - and is also powerful."
Reid even got some personal advice from the lifestyle guru - an opportunity many adults would give the world for.
"She said: 'Don't waste your energy on resisting something in your life because it's already going to work out that way. You could be putting that energy into achieving one of your dreams. What's meant for you is meant for you and what's going to happen is going to happen.'"
And that's a lesson Reid's character Meg learns in the film too. Not only does she have to let go of her fears and doubts, she has to figure out who she is as a teenager and "get over all the pettiness [of high school]".
"I feel like life is all about growing...that's how you learn. That's what [the movie's] about; growing and loving and friendship and family," says Reid.
But if finding yourself and your purpose is the key, it seems Reid is already on the right path. According to director Ava Duvernay, playing the main character in Disney's latest blockbuster will make Reid the first young, African-American girl to ever lead a sci-fi film. "That's a big privilege and it just goes to show that other little girls can do it - that's my main focus; that other little girls get this opportunity like I did," says Reid.
"Of course I want to be an inspiration to African-American girls, but I want be an inspiration to all girls - all colours, all sizes, all shapes, it doesn't matter. If you have the talent and you put your mind to it, you can do it."
But even at 14, Reid knows the battle for diversity and representation is an uphill one which will take many more years.
"It's gonna take a long time for change and that's a hard pill that we have to swallow," she says, knowingly.
"But hopefully this inspires little girls to even try to do something. It just makes me proud that other girls that look like me can feel like they can be Meg too...so they can dream, and dream big and believe that they can do anything."