Linkin Park's Carpool Karaoke video revealed
Section

Publish Date

Friday, 13 October 2017, 11:04AM
Chester Bennington taped an episode of Carpool Karaoke: The Series, just six days before he committed suicide at age 41.
The episode was dedicated in Bennington's memory and was released with the blessing of his family and Linkin Park band mates according to DailyMail.
Bennington was smiling, laughing, joking around, talking about his children, and even dancing with actor Ken Jeong as he drove the car with his band mates Mike Shinoda and Joe Hahn sitting in the backseat.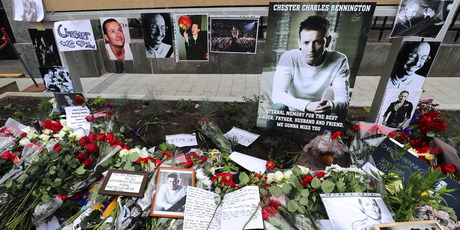 In between talking with each other during the episode, which was taped July 14, the band sang Outkast's Hey Ya, Red Hot Chili Pepper's Under The Bridge, and their own hits, Numb, In The End, and Talking To Myself.
Bennington also taught Jeong how to scream while singing and, to the band's amazement, the actor very successfully belted out a note.
'Don't think about it, just feel it!', Bennington advised. 'It's got to come from within!'
After impressing the band with his singing ability once again, Bennington declared: 'This is probably the greatest day of my life.'
Jeong even joked about becoming the resident dancer for their band and, in an attempt to prove himself for the stars, showed off his dancing moves once they pulled over.
After Jeong danced around for a bit, Bennington was the first to join in and dance enthusiastically alongside the actor.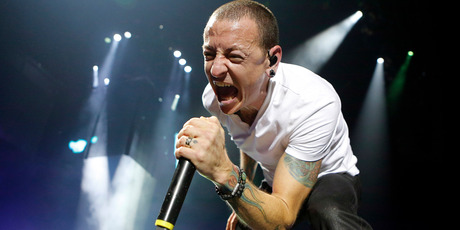 Soon after, the whole band was dancing behind Jeong.
Once they headed back into the car, Bennington shared the aspirations he had for his children.
The singer has six children total, and after Jeong asked if he had hoped his kids would enter the music world, he said: 'For me, I just want my kids to find something that they're passionate about.
'One of my kids loves sports - great! My daughters, they love music, they want to learn how to play instruments. 'Cause Lily's really curious, like "Daddy, how do you like songs? Where does the music come from?"
'I just want them to find whatever it is.'
Jeong then had the band follow him to a party bus for even more karaoke, recruiting people off the street to sing inside the van.
The band and actor film the episode just six days before Bennington hung himself in his home on July 20, 2017.
Bennington's funeral took place the next month with hundreds of friends and family in attendance.
Watch the full episode of Carpool Karaoke featuring Linkin Park below: