Kylie Jenner posts pic after getting all her lip filler removed
Section

Publish Date

Monday, 9 July 2018, 5:28PM
Kylie Jenner has shocked fans by revealing she has had all of her lip filler removed.
The 20-year-old revealed she had done so after countless followers remarked that a photo she posted of herself on Sunday looked like 'the old Kylie.'
The reality star first got lip fillers at age 17, after feeling insecure about her naturally small pout.
'I got rid of all my filler,' she responded.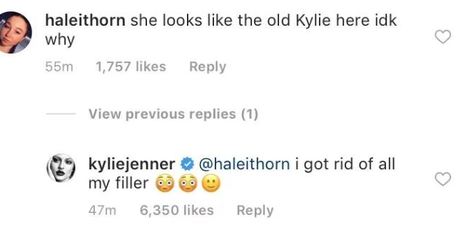 Fans were quick to send their support to the star, with many commenting that she looked better than ever before.
'This is the first time actually commenting on your page im just hear just to say you look truly gorgeous without your fillers,' wrote one.
'You are so much CUTER!!! without your fillers,' shared another.
The photo saw Kylie flaunt her post-baby body in a form-fitting black singlet and high waisted pants alongside her friend Anastasia Karanikolaou.
The makeup mogul has previously revealed she first became insecure about her naturally small pout after a boy she kissed commented that he was surprised she was a good kisser even with small lips.
She was just 15 years old at the time.
'I had really small lips, and it was, like, one of my first kisses, and a guy was like, "I didn't think you'd be a good kisser because you have such small lips".
'I took that really hard,' she revealed to her therapist on her spin-off show Life Of Kylie.
The 20-year-old went on to say: 'Just when a guy you like says that... I don't know, it just really affected me. I didn't feel desirable or pretty.'
For the next two years, she began overlining her lips with lipliners before undergoing fillers when she turned 17.
But Kylie continued to deny she had received fillers for the next few years.
'I feel like everyone has been talking about it for months, so I'm kind of sick of it,' she told E! News in 2014. 'My pictures, I pout them out a lot. I think big lips are awesome.'
Finally, on a 2015 episode of Keeping Up With The Kardashians, Kylie came clean about her lip fillers.
'I have temporary lip fillers,' she admitted. 'It's just an insecurity of mine and it's what I wanted to do.'
'I want to admit to the lips, but people are so quick to judge me on everything, so I might have tiptoed around the truth, but I didn't lie.'