Coronation Street star fighting for her life
Section

Publish Date

Sunday, 10 September 2017, 1:53PM
Coronation Street legend Liz Dawn is fighting for her life after being rushed to hospital.
The actress who played Vera Duckworth for 34 years has been taken to hospital after suffering fluid on the lungs and chest pains.
The 77-year-old is a former heavy smoker who has emphysema. Last year she had a pacemaker fitted following a health scare, reports the Daily Mail.
She has recently been restricted to a wheelchair and has been housebound for weeks.
A family source said her usually upbeat demeanour had been affected by her ailing health.
"She's been in and out of hospital quite a few times in the last few years and normally the family are quite upbeat, but this time they seem more concerned," they told The Sun.
"She's not in a good way and her loved ones are obviously very worried."
Liz was on the programme for 34 years before quitting the cobbles through ill-health in 2008.
In June she had surgery linked to a heart condition.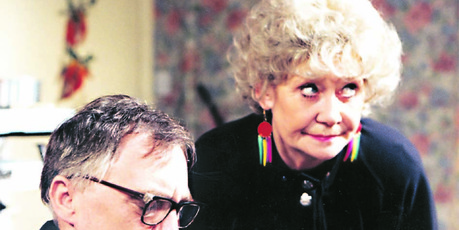 At the time she said: "I've got no energy but once the operation is done I will be looking forward to being as back to my normal self and getting my energy back."
In 2013 she had a pacemaker fitted after a heart attack while on holiday in Spain.
She admitted at the time: "My health is very bad these days."
The actress first appeared on the famous soap in 1974.
Her chemistry with on-screen husband Jack kept fans delighted for decades.
Actor Bill Tarmey, who played Jack, died in 2012.