Comic asks Herald journalist for three-way with mum
Author

Section

Publish Date

Thursday, 11 January 2018, 9:36AM
Jimmy Carr is one of the most controversial comics out, so it's little surprise our interview involves the publicist having to intervene and Carr laughing in her face.
The fact that he's controversial isn't new. Carr is known for his no-holds-barred comedy; race, sexuality, disability - even sexual assault isn't off the table.
What is new is that he spends the duration of our chat being charming, professional and eloquent, discussing how comedy brings people together in these tough times.
And then he turns around and makes a sex joke about my mum.
After Carr speaks at length about how he loves to interact with fans and have them inform his comedy, I tell him I'm bringing my mum - a big fan - to the show.
He switches into comic mode in an instant: "Excellent news, a mother and daughter...well listen, tell her I'll try and organise some kind of three-way.
"Good luck."
The publicist quickly cuts in while Carr laughs his famous laugh down the phone.
"I think they're stressing out, going, 'don't suggest three-ways with journalists, it's inappropriate'," he says, in a mock voice.
It is super inappropriate. But it's also funny. Because that's Jimmy Carr's whole schtick; he's trying to push the envelope as far as he can and his fans literally buy into that, waiting to see how he might shock them next.
"There's a theory on jokes, which is benign violation...the idea of something which, in another context may be shocking, isn't. It's rendered harmless by laughter...the act of laughing at something means that it isn't offensive, it's a joke, by definition it's fine," he says.
Plus, he says, context is key.
"When the papers reprint my jokes and there's no delivery and it's 8 in the morning, you think, 'yeah, that seems a bit much, Christ'. There's a reason why my shows don't take place at 8am."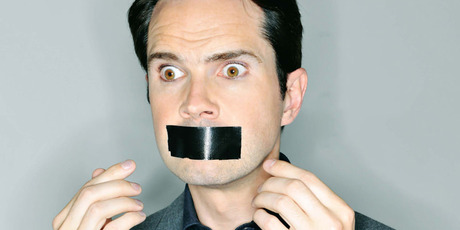 It's all about playing with words, using the audience's expectations against them. For Carr, known for his witty one-liners, it's "almost magical".
"I think there's a reason we 'spell' words - they are little incantations. Sometimes a well-formed joke has got kind of a magical quality, I can say these words in this order and you make this weird noise that we've been making forever - laughter predates language by about a million and a half years. It's such a human thing, it really does define us."
Carr is returning to New Zealand this week bringing his Best of, Ultimate, Gold, Greatest Hits world tour for a massive 11 shows around the country.
He'll be telling his favourite jokes he's written over the span of his career, but also promises "20 per cent of the show is always messing with the audience and having a carry-on" because that's what makes the show special.
It's also what Carr's known for - ruthlessly taking down his hecklers live and off-the-cuff.
For Carr, touring and joking with fans is a way to combat the current way of life in which it's "screen after screen and more alienation".
"But then going out and being a part of a crowd, it's a really lovely thing. People love coming out...for the idea of a shared experience, a sort of tribal experience. I think people are kind of searching for that at the moment; I think they want to be a part of something, especially when you have a thousand people in a room who all have the same sense of humour as you, it feels like a big group of friends."
If you're a Jimmy Carr fan, the new tour promises "all killer, no filler" as Carr tries to up the amount of gags per minute with the aim of leaving you with something hilarious to say at the water cooler the next day.
"It'll be a really fun night, it's the best show I've ever done," Carr says.
"If you like what I do, you'll enjoy it. If you don't...well, I'm not going to get any new converts with this one, put it that way."
LOWDOWN: Who: Jimmy Carr What: The Best of, Ultimate, Gold, Greatest Hits Tour When: January 15-22