Backlash over Kylie Jenner's 'self-made' Forbes cover
Section

Publish Date

Thursday, 12 July 2018, 9:06AM
Kylie Jenner's latest magazine cover is turning heads and raising eyebrows — but this time it's not for what you'd expect.
The youngest of the Kardashian-Jenner clan is used to copping criticism over her clothing or looks but this time it's a Forbes magazine cover that has everyone talking.
The reality television star turned business woman has graced the front page of the business magazine's August issue, which ranks the most successful female entrepreneurs in America.
According to the publication, at just 20 years old, Jenner has amassed $900 million (NZ$1.3 billion), after launching cult beauty brand Kylie Cosmetics less than three years ago. This makes her the youngest person on the fourth annual ranking of America's Richest Self-Made Women.
By comparison, her 37-year-old sister Kim Kardashian-West — and arguably the most famous of the Kardashian-Jenner family — is worth an estimated $350 million (NZ$518 million).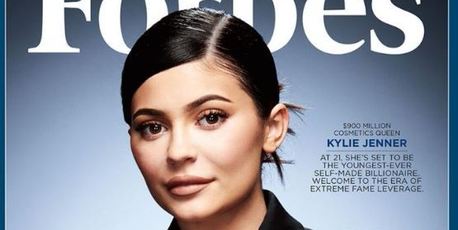 And that's just the beginning. Forbes estimates that within the next year, Jenner will be the youngest self-made billionaire ever, male or female, trumping Facebook founder Mark Zuckerberg, who became a billionaire at age 23.
Snapchat founder Evan Spiegel also became a billionaire in his early 20s, but Jenner is set to surpass these social media magnates — using their platforms to grow her business and brand.
"Social media is an amazing platform," Jenner told Forbes about her brand strategy.
"I have such easy access to my fans and my customers."
But while such huge success at such a young age would usually be lauded, the reaction to Jenner's cover has largely been anything but, with people calling the reality TV star and Forbes out on the "self-made" description.
A proper self-made entrepreneur, critics have argued, wouldn't rely on family wealth and an existing brand to launch their own venture. Or, as Dictionary.com cheekily tweeted, "self-made" means "having succeeded in life unaided".
Self-made means having succeeded in life unaided.

Used in a sentence: Forbes says that Kylie Jenner is a self-made woman. https://t.co/sr8Ncd7s5A https://t.co/ehEL7Cf6KV

— Dictionary.com (@Dictionarycom) July 11, 2018
Forbes calling Kylie Jenner a self-made billionaire when she was born into extreme wealth that most people will never even be adjacent to pic.twitter.com/1SF9f8BGRy

— Judy Robbins (@_judyrobbins) July 11, 2018
Kylie Jenner on the cover of Forbes is nonsense not just because she was born rich but because she was literally HANDED her influence. She steals people's work, style, and culture. A doctor gave her her appearance, and her mother keeps her name in the news. Businesswoman my ASS.

— The Opinion (@SheraeSpeaks_) July 11, 2018
LMAO @Forbes calling @KylieJenner self-made is a joke. coming from a wealthy family that already dominates the fashion and beauty industry doesn't really strike me as self-made, especially when her products are so trash she literally couldn't sell them without her family's fame

— sav (@savvtiva) July 11, 2018
The cosmetics queen has 110 million followers in Instagram.