Amal Clooney on romancing George and raising twins
Section

Publish Date

Wednesday, 11 April 2018, 8:05PM
Amal Clooney, wife of actor George, has become famous in her own right as a barrister in international human rights law and as a fashion icon.
And the 40-year-old has given a first insight into her life with the Hollywood star, revealing how they first got together and discussing life as a mother to twins.
In a rare interview, she told Vogue how her romance with George, 56, came about after she attended a party at his house on Lake Como, Italy.
After, the pair exchanged emails, (Amal is a fan of emailing,) with George taking on the guise of his dog Einstein, pretending he was in need of legal rescue, reports Daily Mail.
Amal, who got engaged to George in 2014, admitted she already "really liked him" before their first date at a top London restaurant, and said she had almost given up on the idea of love and motherhood because she wasn't prepared to settle.
She said: "I was 35 when I met him. It wasn't obvious that it was going to happen for me. And I wasn't willing or excited about the idea of getting married or having a family in the absence of that."
George had previously said that they went on a safari with friends and he took a photo of some giraffes that had come up to a smiling Amal - and in that moment, he had an epiphany that he should propose.
Amal also told Vogue that their 10-month-old twins Ella and Alexander have already said their first words and climb in bed with the couple both between six and 8am. (Amal won't take calls before then).
She said coyly: "We've had some 'Mamas' and 'Dadas'. George was very careful to ensure that 'Mama' was the first word."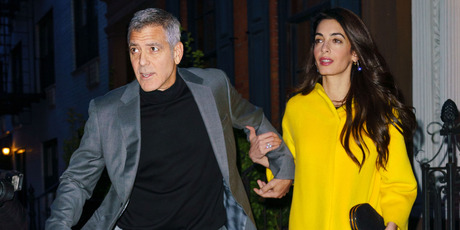 She noted that their routine is easier now than when they were first born as the bed was full of "weird cushions and pillows and machines," at that time.
The interviewer noted that George made a FaceTime call to Amal during the chat where he asked after the "knuckleheads" (the twins).
Amal said: "This is the first time since their birth that he's been away, and the separation has nagged at him more than he'd expected."
Back in February, George talked about Amal to host David Letterman, saying:
He said: "She is sort of this remarkable human being and now mother, which is something I suppose you should assume she would be wonderful at as well, but when you see it in person, it makes you feel incredibly proud but also incredibly small."
George and Amal mostly reside in Sonning-on-Thames, Berkshire, where they enjoy "pool parties until 3am" and have a photobooth for guests. Behind that, sits George's screening room complete with popcorn machine and sweets.
Their house is filled with a giraffe's head (Amal is a fan), art "that's not worth insuring", lots of photos of family, an antique map of Berkshire, a "G" and "A" sculpture, books and a ship in a bottle.
They also travel to Lake Como during the summer and have a small base in LA.
The pair renovated their stunning 17th Century Grade II listed £20 million property in late 2015.
The development includes a home cinema, 360-degree security and a 60ft swimming pool, surrounded in reclaimed York stone and a tennis court.