Actress Heather Locklear hospitalised
Section

Publish Date

Tuesday, 19 June 2018, 8:45AM
Heather Locklear was hospitalized for threatening to shoot herself on Sunday - and choked her own mother when she tried to help her, sources say.
The troubled actress reportedly flew into a jealous rage on Friday over suspicion her fiance Chris Heisser was cheating on her according to DailyMail.
Locklear continued to spiral out of control over the weekend, sources told RadarOnline.com, and by Sunday she was so out of control she allegedly attacked her parents when they tried to calm her down.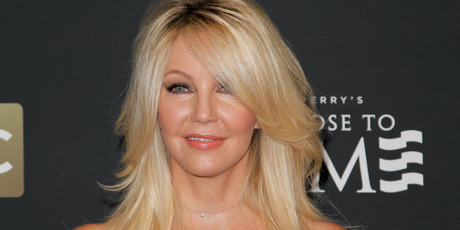 '(Her parents) tried to help her, but she in turn choked her mom and hit her dad,' the source said.
Her mom then called 911, concerned she was acting erratically, was 'violent' and was going to hurt herself,TMZ reports.
According to the dispatch audio, the caller told the dispatcher that Locklear was looking for a gun to shoot herself.
Both Ventura County Fire and Sheriff's Departments responded and the 56-year-old was taken to a local hospital for psychiatric evaluation. The incident is not being treated as criminal.
Sources claim that Heisser and Locklear's family fear she may have relapsed and begun drinking again following her rehab stint.
'She screamed at him and made a huge scene' they claimed, adding that Locklear 'thought he was cheating'.
Heisser decided not to go back to Locklear's home but to spend time with his family - a decision the source says sent the actress 'crazy.'
She was reportedly sending Heisser's mother text messages that 'didn't make much sense', before she suddenly 'went dark' on Saturday afternoon.
Worried he hadn't heard from her, Heisser called Locklear's caretaker and mom on Sunday to check on her.
That's when her mom and dad found Locklear in an 'agitated' state.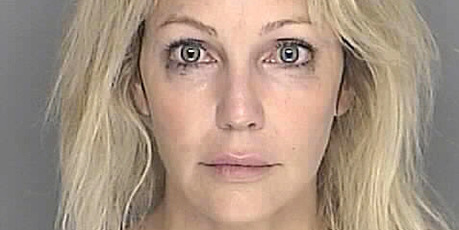 Locklear was hospitalized and is still believed to be at the facility receiving care.
'She was determined to be a threat to herself and others. Even though she wasn't placed under arrest, Heather was handcuffed while on the gurney being transported to the hospital,' the source said.
Locklear's attorney and family and did not respond to Radar's request for comment.
The news comes months after the actress was accused of hitting boyfriend Chris Heisser, 56, at her Westlake Village area home in February.
She was arrested for felony domestic violence, although that charge was later reduced to a misdemeanor, and then dropped entirely.
But she is still facing four counts of misdemeanor battery against a cop after she allegedly kicked and hit officers when they tried to arrest her during that incident. She denies the charges.
Following her arrest, Locklear completed a two-month stint at a rehab center, which ended on April 29. During that time, Heisser is said to have taken care of her dog 'Mister'.
But she wasn't spotted out in public for another three weeks, when she was seen attending an alcoholics anonymous meeting on May 21 in Thousand Oaks, California, with Heisser.
The Melrose Place star was married to Bon Jovi guitarist Richie Sambora from 1994 to 2007 and Motley Crue drummer Tommy Lee between 1986 and 1993.
But she has had a long fall from grace.
In 2008, Locklear pleaded guilty to reckless driving after being arrested on suspicion of the more serious charge of driving under the influence of prescription drugs.
Locklear was arrested on suspicion of injuring a partner and fighting with sheriff's officers at her home in Thousand Oaks on the night of February 25, 2018.
She had just returned from a trip to Boston at the time when she and boyfriend Chris Heisser began to fight.
Locklear's daughter Ava, 20, was also in the house at the time. A source later reported that the This Is 40 actress has been 'concerned and sad' about her mom.
During her arrest for domestic abuse, Locklear told deputies she would shoot them if they ever came to her house again, according to a warrant from the Ventura County Sheriff's Office.
Investigators had learned that Locklear had a gun registered in her name, and after hearing this went to seize the weapon.
The warrant states that officers were not able to locate the gun. Where to get help: • Lifeline: 0800 543 354 (available 24/7) • Suicide Crisis Helpline: 0508 828 865 (0508 TAUTOKO) (available 24/7) • Youthline: 0800 376 633 • Kidsline: 0800 543 754 (available 24/7) • Whatsup: 0800 942 8787 (1pm to 11pm) • Depression helpline: 0800 111 757 (available 24/7) If it is an emergency and you feel like you or someone else is at risk, call 111.