Why this Kiwi director hid from James Bond
Section

Publish Date

Thursday, 7 September 2017, 9:09AM
My first job was: In the produce department at Blockhouse Bay Foodtown.
It taught me... to be careful with knives.
My big break came... I wrote a play when I was 23. It was a very simply staged monologue show at the Silo Theatre, starring Ian Hughes and Madeleine Sami. I didn't have big expectations. But I was in the Continental Noodle House on Durham Lane the day after it opened ($4.50 BBQ pork) and I heard a random group of strangers talking about it. Which led to...
The last job I quit was... I worked at the movies, Village 8 on Broadway in Newmarket, as an usher for four years. After I walked out of the Continental Noodle House, I quit my job at the movies. I was supposed to give two weeks notice, but Shirley the accountant still gave me my holiday pay.
The most famous person I've ever met is... I made a little James Bond movie when I was 12, cutting myself into footage of Timothy Dalton's first Bond movie The Living Daylights. I was in Ireland a couple of years ago making an episode of Penny Dreadful. I walked out of my office and saw Dalton standing waiting for his car. I went back into my office and hid until he was gone. Too starstruck. He's the underrated Bond. He paved the way for Daniel Craig.
They were... I never got to meet him. I'm an idiot.
The best time I've had on set was... The last night of shooting my first film No. 2, we were on a stage in Henderson shooting a scene with Ruby Dee and Mia Blake. There was this incredible sense of goodwill on set and I remember my producer friend Tim White coming up to me and saying, "Treasure this moment, because it's never going to feel as good". But I have to say, most of the time in my career, that hasn't been a unique experience. I've been very lucky to work with amazing actors and crews. As a general rule, everything is better when you're on set.
But the worst was... Usually the trickier time is in preproduction when you're raring to go and get dirty and you have to do a lot of meetings. But these times can be fun too.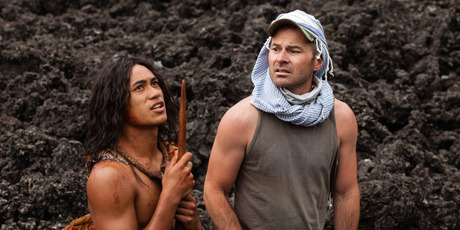 My dream project would be... The Dead Lands was a dream project. It was the summer, we were all really fit, we were shooting at Te Henga and Piha and Karekare, unit and catering were providing amazing food. We said karakia in the morning and on wrap. Everybody was so dedicated to the task and there was a very good spirit. We were running around in the bush making the kind of movie we imagined when we were teenagers playing spacies. Something like that.
• Toa Fraser has two films opening in cinemas today - hostage siege drama 6 Days and The Free Man, a documentary about freestyle skier Jossi Wells.
Listen to our TimeOut Talks podcast below: