Social media hits back at The Block NZ
Section

Publish Date

Monday, 4 September 2017, 3:36PM
Fans of The Block NZ have taken to social media to express their anger and frustration after last night's room reveal and judging was postponed.
Host Mark Richardson announced the weekly judging would be postponed for three days to allow twins Ali and Julia to return to site and complete their space, after he ordered them off-site last week.
Richardson staged an intervention with the pair, telling them he was concerned for their welfare and how they were coping with negative social media attention.
Ironically, his decision to postpone judging has only inflamed social media further, with many claiming the competition was unfair and attacking the twins for receiving special treatment.
They should have made that call as soon as they sent the twins home. Then it would have been fair in all teams. What horseshit. #TheBlockNZ

— Cath (@tubbybroccoli) September 3, 2017
The thinly veiled attempt by #TheBlockNZ to turn social media for the twins is so blatantly obvious bad bad #SpinDoctors.

— •°••SyntaxError• (@Syntax_Err0rr) August 30, 2017
@TheBlockNZ Goodbye The Block. Not impressed with the sudden rule change around the twins. Unfair to others on the Block.

— Mike Bond (@bothma_bond) September 3, 2017
Why is it when J+A complain/feel hard done by things get changed, but when the other contestants do 'life's not fair' ??? #theblocknz

— Bay Bensley-Howell (@bayjorbenhow) September 3, 2017
What has happened to this show Mark Richardson favouring the twins all the time pretty shit #getting away with everything #TheBlockNZ

— Luana Frear (@lmrfrear) September 3, 2017
Tonight is the last episode of #TheBlockNZ I shall be watching.
The producers clearly do not respect their audience and should be ashamed!

— Jess (@BlackCapsNo1Fan) September 3, 2017
@TheBlockNZ Appalling decision. Thought Mark was bigger than that. Why force the teams to tiptoe around the ever-complaining bloody twins

— Grace (@Grace35842858) September 3, 2017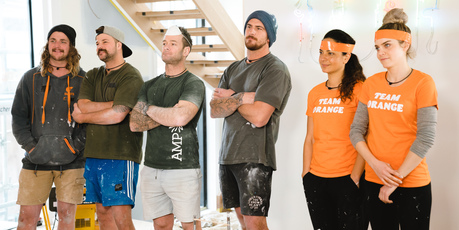 A post on The Block NZ's official Facebook page has more than 900 comments, with many angry about last night's turn of events.
But depite the fiery reaction, MediaWorks had no further comment to make, instead re-issuing last week's statement to the Herald regarding social media.
In an email to the Herald, a spokesperson wrote: "Nothing further to add to our statement on Friday. Here's what we said on Friday that is relevant to your questions:
"MediaWorks closely moderates our own social pages for aggressive and abusive comments. Unfortunately we cannot control what takes place on social media outside of our own platforms but we do offer a high level of network and production support - including access to a psychologist - for participants throughout their time with us. While each participant is briefed very extensively on dealing with social media prior to their time on the various shows, once they become well known we are well aware it can still be a challenging time for them and we do all we can to support them throughout that process - and where necessary insisting they come out of the situation - as we did with Julia and Ali. Participant wellbeing is an absolute priority for MediaWorks at all times."
Meanwhile, the twins took the opportunity away from The Block to finish another DIY project - returning to help cancer patient Anwynn, who they met during the community challenge last week.