Laos: Shaun Johnson goes home
Author

Section

Publish Date

Sunday, 19 February 2017, 2:13PM
Warriors star Shaun Johnson has spoken publicly for the first time about his mother's escape from Laos more than 30 years ago.
In a compelling documentary premiering on February 27, cameras follow Johnson and his family as they travel to Laos — the Southeast Asian country his mother fled in 1980 in search of a better life.
Shaun Johnson: Across The Mekong shows a side to the Warriors' star many of his fans are unaware of — his Laotian heritage. It also gives a glimpse into his family life, revealing the tight-knit bond he shares with his parents and three brothers.
With his parents splitting up in 1995 when Johnson was just 5, dad Paul raised the four boys on his own. And although mum Say was still a part of Shaun's life, he knew little about the Lao side of his family.
"We've always been close to mum, mum's always been around. But it's only over the last five years or so we've spoken about this idea of going back to Laos and experiencing it with her," Johnson says.
Speaking exclusively to the Herald on Sunday, Johnson — who dates netball star Kayla Cullen — told how Say fled Laos more than 30 years ago.
"Mum left Laos for a few reasons, there wasn't one particular reason. The bottom line of it all is she wanted to provide for her family," he said.
"At the time you had to escape to get out, just with everything going on there. She gave it a crack, across the Mekong in this little boat."
In the documentary, Johnson and family visit the exact spot on the banks of the Mekong where Thongsay crossed to Thailand to reach a refugee camp, with her then-husband and oldest son Topo. Johnson says the visit was an emotional experience for them all.
"Just to know she went through all of that to give her family a better life. Whatever's happened since then has happened, but that's something that I know as a family, we're very grateful for. To revisit that place with her, I know it was really emotional for her. We just got around her and told her that we're here for her. And let her know that because she escaped, she's got us four boys. So thank you for doing that Mum."
The documentary follows the Johnsons as they meet their Lao family for the first time, and Say as she reunites with her three sisters. It was this experience, Johnson said, that made the entire trip worthwhile.
"She was like a completely different person. Right then and there, for all of us, that warranted the trip straight away. Just to see them sitting on the floor, laughing, joking, pushing each other; it was like me and my three brothers catching up for the first time in a long time."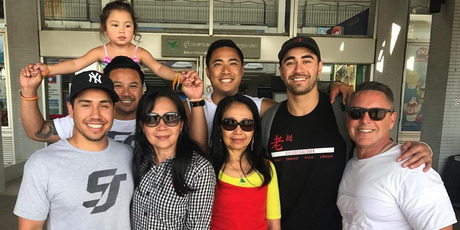 Johnson has also spoken of his admiration for his dad Paul, the man who raised Shaun and his brothers.
"He was the driver for getting this trip in motion. He's always said we need to do it as a family," Johnson said.
"For him to be able to come along and take a backwards step while we embrace mum's side of things, that's a real credit to him and shows the sort of person he is."
The experience has given Johnson a stronger appreciation for his parents, and for his Laotian heritage.
"I think it's a natural thing, as you get older, where you want to understand a little bit more about who you are. And a big part of who we are is my mum's side.
"I'm just grateful. I appreciate where I'm half from. To see that and to experience it was definitely all worth it. I'm glad I did it for my family."
• Shaun Johnson: Across the Mekong screens on Sky Sport 2 on Monday February 27, 8.30pm. See Sunday Travel next week for more on Shaun's experiences in Laos.