Why Helen Cherry won't be at NZ Fashion Week
Section

Publish Date

Sunday, 27 August 2017, 11:09AM
By Hilary Stichbury
Hilary Stichbury meets the powerhouse behind one of New Zealand's best-known brands.
Helen Cherry's first brush with fashion was at 6 years old, with a deep rose baby-cord dress her mother made her for a wedding. "It had a white lace Peter Pan collar and cuffs," she says. "I had white Beatle boots to go with it. I loved that dress." Helen's mother owned a hair salon near their home in Avondale, and she designed and made salon uniforms for all her staff. "Purple hotpants, matching vests with printed pussy-bow blouses and high boots," Helen laughs, her voice low and buttery. "Fashion was just part of our life, as limited as it was, being in the suburbs. For me that was where it started."
She knew early on what she wanted to do with her life and in a school profile, at 10 years old, beside the word "Ambition" she wrote: "Fashion Designer".
From there things moved fast. Within the next decade she graduated from fashion school and landed a position at Zambesi, where she stayed for four years.
One afternoon she went with her boyfriend to visit Workshop, where she met the owner Chris Cherry, designer of the Workshop brand.
"I didn't realise they were an item at the time," says Chris. "He kept trying to shoo me away from Helen. He wanted to talk business, and I was more interested in this young fashion graduate with the masses of wild, curly hair."
Several years later, Helen and Chris became a couple. Soon after, Helen went to work for Workshop designing womenswear brand Streetlife, which she did for eleven years. Over time her sensibility sharpened and veered away from Streetlife's casual one, and Chris suggested she put her own name on the brand. "It took me three years to convince her," says Chris. "She wouldn't do it."
"I enjoyed the anonymity I had with Streetlife. I'm very private," Helen admits, her eyes fixed on a single point to her right as she speaks. She is considering every word. "For me it's about the craft of making clothes. It's not about seeing my name in lights." More a quiet achiever than a fashion rockstar, she would rather let her clothes speak for her.
Next month, it will be 20 years since her eponymous brand was launched, at the newly opened Workshop store in Vulcan Lane.
The collection hung, soft, blow-away silk pieces beside sharply tailored separates in finely woven wools, its sophisticated-girl meets rock-chic ethos offering wearers a way to show they were fashion fluent, but not fashion led.
That first collection sold well. Then the following year the brand was picked up by mega-department store Barneys, arguably, then and now, the most prestigious department store in the United States.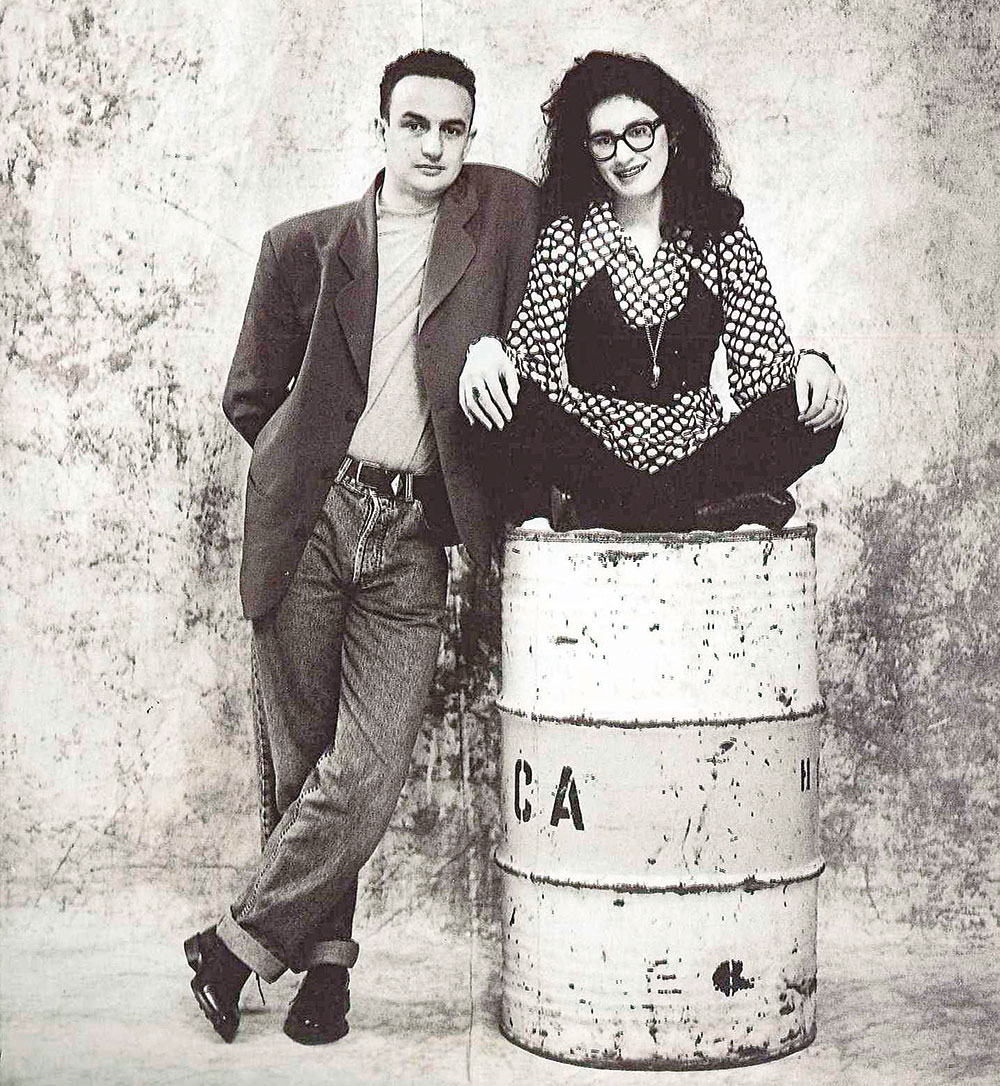 "I was standing by the fax machine when the order came through," Helen says. When she saw the Barneys letterhead curling off the machine, it hit her that the Barneys deal was real. "It was an amazing moment. Definitely a career highlight," she says.
Twenty years is an impressive achievement in an industry that sees so many young designers launch, only to nosedive within a few seasons. Now 56, Helen says "I feel lucky I've been able to do it for this long and it's still working. I love what I do."
The polished-with-an-edge Helen Cherry DNA is still strong, rendered with the confidence of 31 years' designing. "It's an experience thing," she says. "I feel more definite about what works and what doesn't."
Fashion insider Sam Saxton-Beer who worked extensively with the brand at Denizen magazine, is drawn to the undercover rock 'n' roll edge Helen brings to classic pieces.
"I wore a shimmery long-sleeved metallic top by Helen recently, and someone said it reminded them of one of [Anthony] Vaccarello's new Saint Laurent looks, which is about as badass as you get in my books," says Saxton-Beer. "Two decades seems like two lifetimes in the world of fashion. Helen has managed to traverse the extreme peaks and ugly troughs of high fashion whilst remaining fresh, relevant, sexy and feminine."
Helen's had her share of lows too. "What feels like a brilliant idea can be a commercial disaster," she says. "A few years ago I decided culottes were the new pant silhouette. I was very excited about it, only to find our customers did not respond well."
"It can feel very personal when a style doesn't work," she admits. "But in many ways the failures are the most interesting part. They motivate you to move forward."
She has negotiated the risky business of fashion, fraught with future predicting, forward spending, and putting the fruits of her creative process out there for public dissection twice a year, and emerged a pillar of New Zealand fashion.
But the Helen Cherry brand is missing from the lineup at New Zealand Fashion Week, set to open on August 28. Accidental fashion mavericks, Helen and Chris follow their gut instinct, which often leads them in their own direction.
The last time they weighed in at Fashion Week was 2011, staging a massive event at Auckland Town Hall for the Helen Cherry and Workshop brands, set to a remix of Kate Bush track Running Up That Hill. It was the perfect blend of Helen's sexy, feminine sensibility and Chris' hardcore rock one.
"It still remains a highlight for us," Helen says. "We would prefer to do nothing, or do something like that. We have so much respect for Fashion Week, but we're a small team, often we're focusing on other projects."
Today, sitting across from me in her office, Helen is wearing Current Elliott jeans, black square-heeled ankle boots by Isabel Marant and a dark, immaculately tailored Helen Cherry wool jacket.
She sheds the jacket to reveal a whisper-thin Helen Cherry silk blouse softly gathered at the neck. The dreamy, soft print in muted plum, ecru and lavender is a signature look for the brand. She has left the blouse unbuttoned at the wrists, the cuffs wafting around her forearms as she moves. The look is unforced, innately stylish.
"I design for myself," she says. "I think about what I want to wear." Hence the handwritten sign on a piece of A4 often blu-tacked to her office door, saying FITTING, DON'T COME IN. "Mostly I'll be standing there half-dressed," she says. "I can't design any other way. I have to put it on, it has to feel right."
The workroom is just outside her office, meaning she can see her ideas materialise as she designs them. "We make everything in New Zealand," she says, "mainly because we can control the quality. My clothes are usually quite simple but that means it has to be immaculate."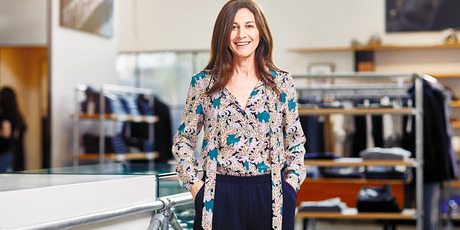 Close friend Ngila Dickson, a costume designer who won an Oscar for her work on The Lord Of The Rings trilogy, has watched Helen develop as a designer over three decades. "Helen agonises over every fabric choice, every tone, every stitch," she says. "She really thinks everything through. But she's a very practical, down-to-earth person, which is a gift in fashion because it can get dilettantish."
When asked what inspires her, Helen goes straight to music. "I'm currently obsessed with Lorde," she says. "Apart from being an amazing songwriter, she's developing her own style at such a young age. I love that."
She's drawn to Florence Welsh, her willowy style as well as her drifting, sexy sound. "And I love Alison Mosshart," she says, "How she's hardcore rock 'n' roll." She saw The Kills last year at The Powerstation. She couldn't hear for 24 hours afterwards, but it was worth it.
There is also a timeless, edgy European sensibility to her brand, fortified by the four trips she makes each year to Paris, the epicentre of fashion worldwide, for Workshop. There she buys some of the best cult luxury brands working today - the likes of Isabel Marant, Alexander Wang, Acne, and See By Chloe.
The tightly curated edit Helen brings back hits town like a hip-kid gang, often causing a frenzy at Workshop the day a new collection drops, albeit a well-mannered one. It's not uncommon to see a few die-hard customers waiting outside the shop for the doors to open.
Behind Helen's desk is a wall of Helen Cherry campaign shots, most of them porcelain-skinned redheads in spare architectural poses. Pinned in the middle of it all is a white piece of paper bearing a simple line drawing of Homer Simpson. "Homer Rocks" says the title in enthusiastic lettering. In the bottom corner, written tiny, it says, "Vincent, aged 9."
Vincent, her youngest son, is now 15. When he was younger, he came home and said to Helen, "Are you famous, Mum?" She put it to him that the Helen Cherry brand is something on its own, separate to her. Then she said, "Do I seem famous to you?" They both broke into laughter.
Her older son Dylan is 24. A DJ, he has inherited the entrepreneurial streak that runs in the Cherry blood, with fingers in many different music pies. "He's our go to guy for anything we do that involves music," says Helen. "I'm always saying to him, 'What should I be listening to?' It's great."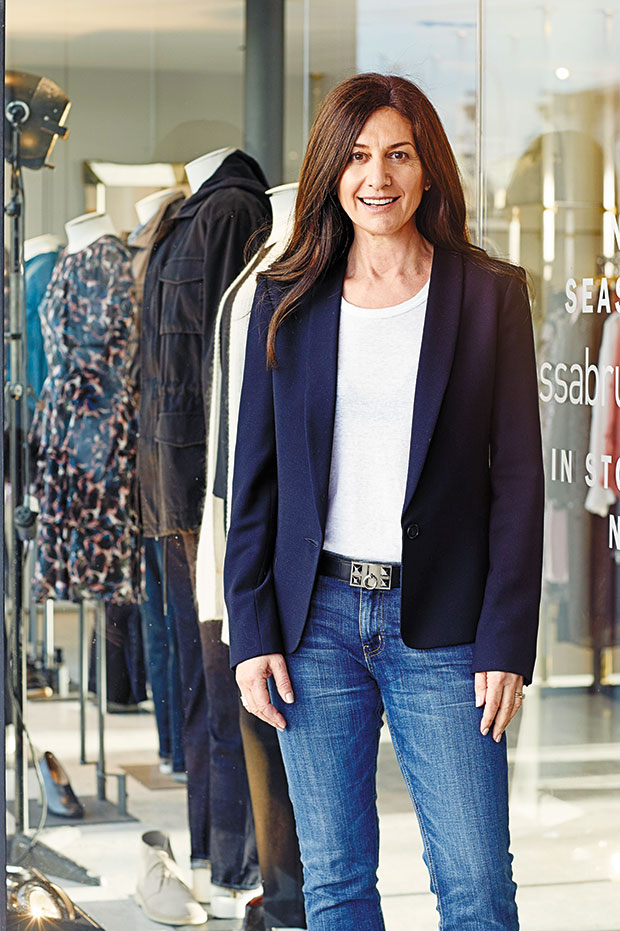 Helen and Chris have been together 32 years, and have just celebrated their 25th wedding anniversary. They complement each other, as longtime couples often do - Helen focused and disciplined, and Chris a voracious entrepreneur, pulling art, architecture, design, music, and anything else he enjoys into his creative vortex.
"We worked out early that it was better for us to have separate areas of responsibility," says Chris. "For the collections, but more importantly for our marriage."
"We don't talk about work at home at all," he says. "We never drive together to work, and some days we don't see each other at all." But they are just through the wall from each other. Helen knows she can knock on Chris' door, knowing it's her husband on the other side, not the managing director. It's the same for Chris.
"It's not that we don't have our moments. Sometimes I'll feel that a particular fabric isn't going to work for Helen. But she's very strong, she knows what she wants to do. She'll tell me to mind my own business," he laughs.
"I'm immensely proud of her. There's an ease to what she does," he says. She's had huge, understated success."
Most of their adult lives, the Cherrys have been locked into a relentless schedule, only able to escape the fashion turbines they have set in motion for a couple of weeks at a time.
"I can't imagine ever not doing this," says Helen. "But another part of me gets frustrated. Being a fashion designer appears frivolous and glamorous, but you're making big decisions that involve a lot of money. It wasn't until 2010 I realised how great a burden that was, how exhausted and overwhelmed I felt."
She started hunting, and found Gwinganna retreat in Queensland Australia. "Suddenly I was in this beautiful environment where I was encouraged to say what I needed," she says. "It was quite frightening, it was a real turning point."
She has visited most years since. She has built stress-combatting skills - basics like spending time with friends and family, eating well and doing regular yoga. "When I do yoga my mind immediately goes back to Gwinganna," she says. "I can smell it, I can see it."
They both dream of taking time out to travel at a slow, anything-could-happen pace. The tiny village of Zivogosce, Croatia, would be their first stop.
"His whole life, my grandfather kept a poster on his wall of Zivogosce, where he grew up," says Helen. "I was fascinated by that photo, the contrast between the enormous, steep, rocky mountains and the sheer drop to the stunning coastline."
The house her grandfather grew up in is now in ruins. "But it is still standing, high up on the mountainside above the village," says Helen. For now though, Croatia will have to wait.