Where to eat brunch this weekend
Author

Section

Publish Date

Saturday, 2 September 2017, 10:07AM
Address: 480 Richmond Rd, Grey Lynn Online: honeybones.co.nz Open: Mon-Fri 7am-3pm. Sat 8am-3pm. Sun closed Cost: $19.50 for one.
---
SET UP & SITE
I usually pick up on good places through word of mouth - but I discovered Grey Lynn newcomer Honey Bones, which opened last month, on Instagram. It certainly looked good, but a very average lunch at Amano drilled home the adage that good looks will only get you so far. The happy news is Honey Bones hits the trifecta: smart decor, good food and great coffee. Its fit-out is stark and minimal - polished concrete floors, off-white walls. The menu's a Scrabble-like art piece on the wall, water jugs and tableware are by Matakana's Frolic ceramics. A long communal table with comfy, leather stools runs down the centre of the small space, under rather impressive custom-built brass fluoro lights; smaller tables run down the left of the space. A range of art and design magazines are placed under the window facing Tutanekai St.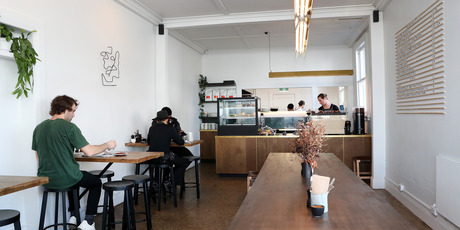 SUSTENANCE & SWILL
Owner Hugo Baird (ex Crumb) is the man behind Honey Bones' transformation - while chef Reginaldo Richard (ex-Odettes) presides over a menu that has plenty left-of-centre brunch options - buckwheat porridge with black doris plums, berries, chia and coconut milk ($14), Turkish poached eggs - yoghurt tahini, mushrooms, harissa oil and crisp sage ($20) and the dish I keep going back for - beef cheek croquettes with egg, eggplant and turmeric ($21). This visit I ordered smashed peas with ricotta, pickled butternut, roasted grapes and a poached egg on rye ($15). Smashed peas of various descriptions have been turning up on a few menus around town, and that's fine by me; it's a brighter, sweeter dish than the usual smashed avocado - and HB's version is as tasty as it is Insta-friendly. The pickled butternut and (perfectly) poached egg mean it's substantial enough for either brunch or a light lunch. There's a selection of fresh cabinet food too; head for the fig scones - homemade and served with a dish of softened butter (sometimes it's the little things).
SERVICE & OTHER STUFF
If you're in a rush, grab a coffee and a bacon and egg butty to go (with house-made chutney and aioli on a warm pide bun, $11). The coffee is - of course - Supreme - and these guys know how to make it. Nice touch - their takeaway cups come logoed. This smart, corner cafe gets it right, straight out of the gate.