What happens when you contour like Kim K
Section

Publish Date

Wednesday, 6 September 2017, 9:42AM
It's the 10th anniversary of Keeping Up With The Kardashians. "OMG no", you say? Bible, yes. So the NZH Lifestyle team attempted to live like the Kardashians for a week by following tips found on their apps. Could we keep up?
KEEPING UP WITH ... KIM AND KYLIE'S MAKEUP LOOKS
The Kardashian sisters have some of the most coveted makeup looks in Hollywood. Everyone from fellow celebrities to beauty vloggers are constantly trying to recreate beauty in the Kardashians' image (read: chiselled and pouty).
With the help of some fillers, Kylie Jenner has made big, over-lined lips a major makeup trend and built an empire with her lip kits - she made a whopping $420m in 18 months.
And what Kylie is to protruding pouts, Kim is to contouring. The most famous Kardashian turned the makeup technique into a global sensation and - surprise, surprise - launched a sell out line of contour kits to cash in on the concept.
The success of the sisters' lines is bolstered by tutorials on their apps. While Kim offers step by step contouring with her makeup artist Mario, Kylie plugs her kits with a guide to perfectly lining those lips.
So how hard is it to recreate the sisters' trademark looks without our very own "glam squad"? We followed their tutorials to find out.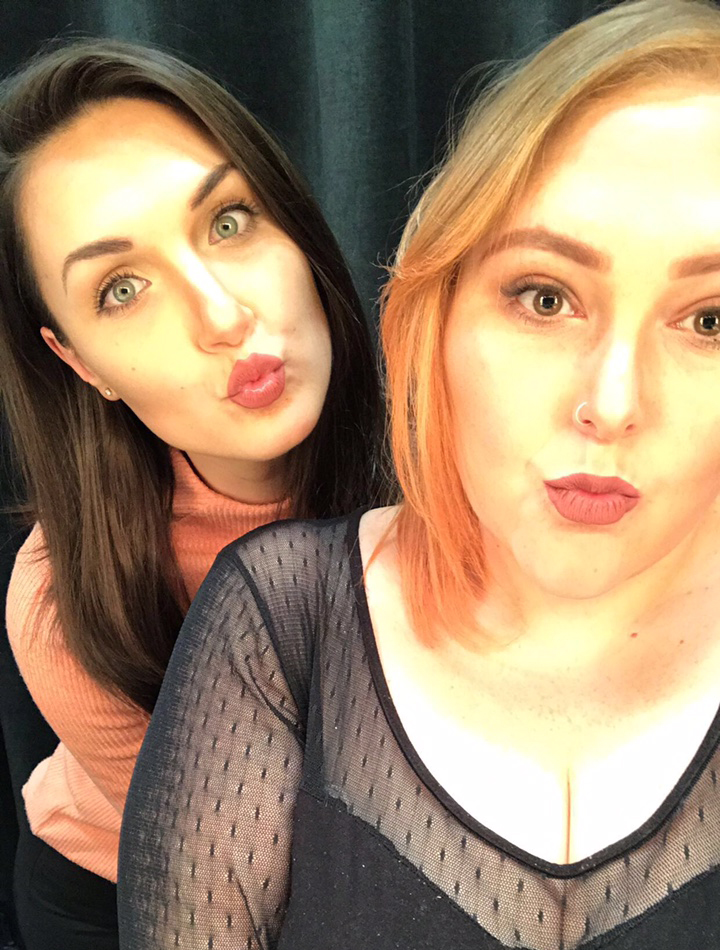 JENNI: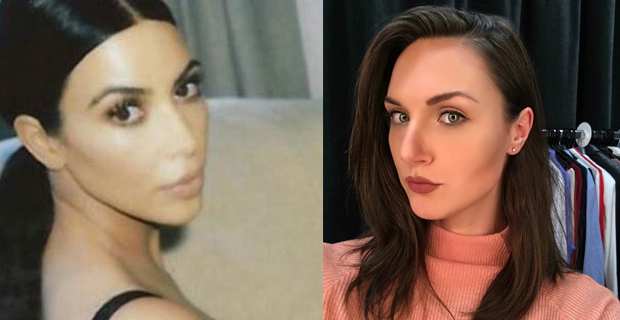 WHAT I EXPECTED:
I've always wanted to try contouring, but I don't enjoy wearing heavy makeup, so I did have some reservations.
I knew it was going to be a battle - I have little patience when it comes to makeup and contouring seems like a real commitment.
WHAT ACTUALLY HAPPENED:
I started by applying my usual makeup, concealer, BB cream and some mascara and then proceeded to apply the contour as per Mario's instructions. Because it was a powder it seemed easy enough and it was lightweight to apply.
I saw the difference to my face shape almost immediately when I used the dark colour. I felt like it made my face look a bit sunken in and definitely older.
Things went horribly wrong when I tried to contour my nose with a brush that was too big.
It made my nose look broken and somehow much larger than before I began. In this situation there was nothing I could do but laugh. I'd completely butchered the look.
I thought the highlighter would come along and miraculously save things. Nope. It just added to my nose issues. It was at this point that the layers of makeup began to feel quite heavy.
I tried to make my brows larger and fuller using the mark. by Avon perfect eyebrow kit, which gave a nice natural look in comparison to the boldness of the Kylie lip kit we applied next.
The lip liner was great and I felt it was easy to apply overline the lips, but the gloss was horribly dry and made my mouth feel stiff and uncomfortable.
When I got home, all my makeup came off easily except for the Kylie lip gloss. I had to use two different products to remove it and followed it up with a very necessary lip scrub.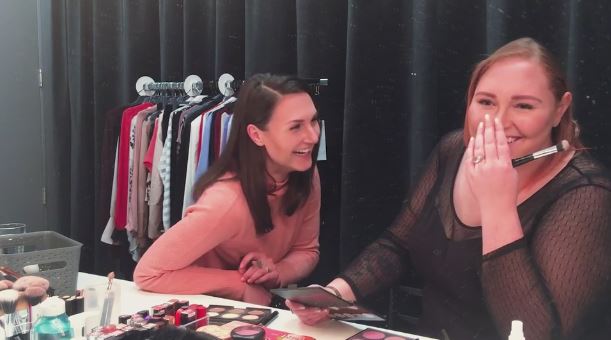 WOULD I TRY IT AGAIN?
I would personally rather leave the contouring to the professionals and stick with some good old powdered bronzer for an evening look.
However, I would try a dulled down version of the highlighter and lip liner look again.
I did feel like the makeup aged me in a bad way. I'd recommend learning how to do this with a makeup artist if you are planning on building it into your daily look.
LIANA: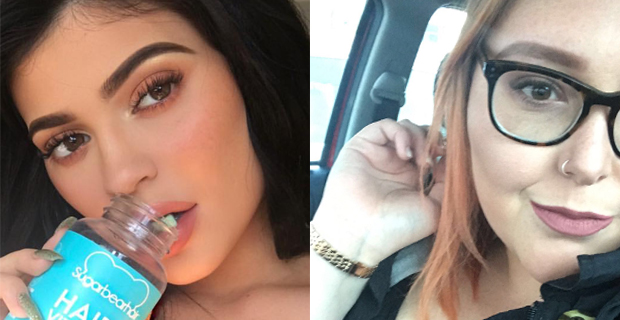 WHAT I EXPECTED:
I love makeup and I get the general idea of what the tutorials instructed, but actually doing it on our own faces was a whole new world.
I'd imagined that typical contoured look: applying multiple dark and light lines before blending out to get the perfect contour, in all the right parts of our faces. I wanted to have the highlight subtly glowing on my cheekbones and a bit of bronzer darkening up the shadows. But following along with the tutorial was a lot different.
Mario and Kim make the powder contouring look so much easier than it actually is.
WHAT REALLY HAPPENED:
I felt like I was putting layers on top of layers. I think my cheek contour was a little low and looked like what I can only describe as dirty.
I didn't know there could be such a thing as "too much highlight". I was mistaken. The NZME makeup room's mirrors and pretty lights made us feel like we were on the right track but once we hit natural daylight, we looked like we'd aged ourselves by a few years.
After setting my face and buffing out some of the over-the-top areas, it didn't actually look too bad but it felt thick and cakey on my face. I headed (straight) home for a well-deserved face wash and mask.
WOULD I TRY IT AGAIN?
I've worn a light contour/bronzer situation in the past but nothing as intense as this. Maybe wouldn't rock this again, I do want to try cream contouring though, but will save that for another series.
Keeping up with the Kardashians 10th Anniversary celebrations:
• Every episode ever marathon - Saturday 9 September - Monday 2 October, 6.30am - 6.30pm on E! (SKY channel 014)
• 10th Anniversary Special - Monday 25 September, 2pm (encore 9.30pm) on E! (SKY channel 014)