The Lula Inn: Great start, unhappy ending
Author

Section

Publish Date

Saturday, 8 July 2017, 5:30PM
Address: 149 Quay St, Viaduct Harbour Phone: (09) 365 2690 Rating out of 10: Food: 7 Service: 5 Value: 7 Ambience: 6 We spent: $369.70 for four.
---
This is not a review of the apple crumble. I don't know what the apple crumble tasted like. When I left The Lula Inn, it was just leaving the kitchen - about 50 minutes after it had been ordered.
The maitre d' apologised. They'd been dealing with a table of 20, she explained. Imagine that. In a restaurant.
Quite a bit of media fanfare went into the opening of The Lula Inn, in the old Crew Club site at the Viaduct. The press release said it would be a "South Pacific-inspired eatery and drinkery" with "relaxed colonial charm".
Let's pause and consider some previous occasions of "colonial charm". Once, New Zealand sent the Spanish Flu to Samoa and wiped out 20 per cent of the population. One probably shouldn't mix one's G&T with politics, but seriously - "colonial" - in 2017?
Thankfully, the "c" word is absent from the actual menu, which is South Pacific in the sense that there is a duck confit pizza, a pumpkin and farro risotto with honey soy mushrooms, and barbecue sausages with mustard and white bread. I don't know, I didn't write the menu.
We ordered a pizza (pork sausage, fontina cheese and shiitake mushroom, $26) and it was great. Charred and bubbly in all the right places. In fact, despite early misgivings, The Lula Inn put some quite delicious things on our plates.
For me, the absolute high point was the buttery-soft cubes of confit tuna on cos lettuce, sploshed with of-the-sea-from-the-sea kina-infused mayo ($16.50). The kokoda ($19.90) was elegantly flavoured with a light citrus cure, creamy coconut and a genius crunch via toasted rice. It was one of the best-balanced raw fish dishes I've eaten in a restaurant. We paired all of this with a cheap and cheerful bottle of prosecco ($45) and if we'd stopped there, this would have been a very different review.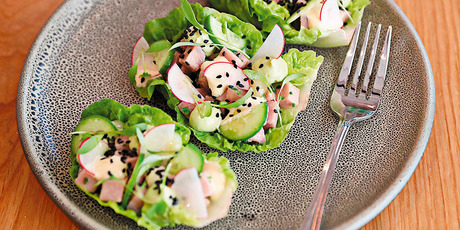 The problem is The Lula Inn is trying to be something for everyone. At 7pm on a Friday, for example, the music was insanely loud and clubby. Old and grumpy? I think the nine(ish)-year-old child at the next table who was trying to watch the rugby on the giant screen behind the bar would have agreed.
The waitstaff (we were visited by at least five), ran the gamut from impeccable, to the woman who said she didn't like opening wine at the table. She managed, but apparently didn't like pouring it, either.
Some more goodness from the "to share" list. If you're planning to do more drinking than eating, consider the cauliflower cheese balls ($13.50) a sophisticated alternative to hot chips.
We were absolutely there to eat. The website advised that Thursday-Saturday, evenings got "louder, livelier and much dancier" and so I'd phoned to check that our dinner booking was not a totally stupid idea. Nope, they said, the live band wouldn't start until 9.30pm.
Our mains were the world's most garlicky scampi and prawn spaghetti ($33.90), a pork chop ($31.50) that passed the extremely tricky cooked-but-not-dry test, and a coal-roasted lamb shoulder ($37.90) that needed a bit longer on the coals to render the fat and reduce the chew factor. If there is a more ridiculously hipster menu descriptor than "10-hour ember roasted carrots" ($9.50) I'm yet to read it, but get the carrots - they're yum.
The band started some time after we'd ordered dessert. It was excellent. "Sex with instruments," said the birthday girl, channelling the general Viaduct vibe. Her older, grumpier companion pushed aside a lemon creme brulee that tasted too much like uncooked egg. She just wanted her apple crumble.