Review: Feelgood fare at Crave Café
Author

Section

Publish Date

Friday, 23 June 2017, 5:46PM
Address: 6 Morningside Dr, Morningside Phone: (09) 845 4714 Rating out of 10: Food: 8 Service: 9 Value: 8.5 Ambience: 8 We spent $144 for two.
---
We weren't supposed to be in Morningside, but the Ponsonby establishment I'd phoned the day before to make a booking had advised no booking was needed. We should just "rock up".
We duly rocked. They duly rolled us right on out of there. A private function, they explained. I phoned, I explained. Oh, said the waitperson. If we ate next door, next time we would get a free dessert.
Next time (said the voice inside my head that was struggling to make sense of this terrible deal) I will award a zero for service. In the meantime, if it's Thursday-Saturday, do not pass Ponsonby, go directly to Crave Cafe.
It's the daytime Morningsider you may not have realised does a liquor-licensed dinner three nights a week. The website announces a business that does "good in the 'hood" so let's get that elephant front and central: according to that same website, one of the key personnel is a bloke called Blue who, every Easter, directs a Baptist youth camp for 5000 at Mystery Creek.
That might explain the enormous contemporary close-up of a well-known virginal figure over the counter (and, possibly, the impossibly clear-eyed and pleasant nature of our waitstaff), but the only thing overtly shoved down my throat was really good food.
Bring a vegetarian friend here, because the non-meat offerings are both interesting (tomatoes with olive tapenade, sumac, onions, bocconcini and smoked aioli, $19) and tasty (beetroot, candied walnuts, feta, rocket and cashew pesto, $17).
We began with three of the best pulled pork bao I've had in Auckland. Controversial? Well, the filling was both meaty and light, thanks to a crunchy, vinegary-appley dressing that turned out to be a reduction of locally made cider, and the bun was unbelievably tender. I had to know if it was housemade. Our waitperson disappeared into the kitchen and came back with a scrap of paper bearing the name of a food wholesaler that should really consider home deliveries.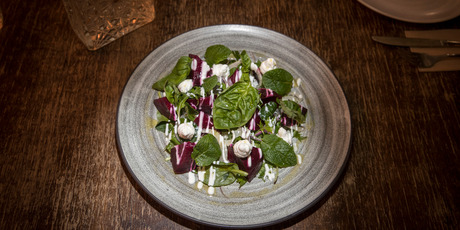 Arancini (deep-fried rice balls) can be a hit, but mostly miss, affair. Crave does five large mushroom ones for $10 and they were sublimely good. Not as crisp on the outside as tradition dictates, but that was partly because they sat in a garlic cream sauce. Unless you are dead, you'll want a spoon to finish that sauce.
They do a bunch of regular-sized mains that would appeal to families - pork sausages, crumbed chicken, etc. I was surprised there weren't more middle class mother and child groups, given the attention to interesting vegetable detail, and the general junkyard chic of the place. Think fringed standard lamps, squashy couches and retro signage. The bulk of the tables come with community hall-style metal and plywood chairs. They're okay for an hour or so, but unless your bum is used to, oh, I don't know, church pews, you'll probably want to do what we did and take your dessert home.
My salted caramel and cashew slice had a granola-like base and a ridiculously decadent filling. It was $4. Sarah wasn't sold on pudding via a cabinet, but if you were out with the family, or pay day wasn't until next week, then that is an appealing price point.
Also good value, "the whole hog" section of the menu (lamb for four to six at $59; beef cheek for two to three at $39). We ordered the latter and there was enough leftover for lunch for one. The meat was slow-cooked perfection, but it sat on eggplant that needed more cooking and came with a pile of blitzed sun-dried tomatoes, which, I guess, was supposed to cut the richness, but just made me glad the 1990s were over.
It was a small glitch in an otherwise really lovely rendition of "neighbourhood". Crave is the warm and friendly girl in your class who volunteers at the local vet clinic and teaches her grandmother how to use Facebook. She's pretty, but she's not so cool that she won't say hello. "Sharing is caring," says the menu. I felt cared for.