Review: Delicious promise at Frasers
Author

Section

Publish Date

Saturday, 4 March 2017, 11:26AM
After work Thursday, and it was raining cats and rottweiler-sized dogs. Downhill was treacherous and every bus was packed with damp and grumpy bodies.
I wanted to go home to dry feet on dry carpet.
I was, instead, heading to Frasers. So was the rest of Auckland. On this night when a couch and an 0800-menu was surely the city's most appealing dinner option, Frasers was jam-packed.
The Mt Eden eatery has always been famous for its cake. Recently, however, it has added a liquor licence, a stripped-back brick interior and a full evening menu.
Not everyone has embraced the change. "If I wanted to go to a posh cafe, I would've gone to Ponsonby," grumbled one citizen reviewer. Others have complained they can no longer buy their coffee by the bowl. I would remind those people that it recently turned 2017.
"Posh" is not the exact word I would have chosen. The new-look Frasers is definitely more than a tea-and-cake shop, but despite the pull-up-a-stool bar and banquette seating down one wall, the main eating space feels a bit boarding school.
The tables are small and placed in rows. They're not solid enough for lounging with a wine and tapas - a shame, because the tapas we tasted (from a selection of seven) was the most excellent part of our evening. Pork cheek croquettes were moist and meaty and really well-balanced by accompanying slices of par-cooked apple.
We ordered bread ($8), because it came with seaweed butter, which, in my opinion, is the tastiest interpretation of "surf 'n' turf" you can introduce to your arteries. Unfortunately, the loaf came with a ridiculously unnecessary pesto, mozzarella and sundried tomato stuffing (at least those coffee-by-the-bowl drinkers can stop wondering what happened to the 90s).
If the pork croquettes ($15.50) were one of the more moreish things I've eaten so far this year, a chargrilled squid salad ($18) was the opposite; chewy and bland with zero char, and so soaked with dressing the lettuce looked like it had been in the bottom of the fridge for a week.
I fared better with snapper, chips and a mint and red cabbage slaw ($27). The vege were fresh and light and the fish had a great crunchy, non-greasy, crumb. The chips were advertised as "twice-cooked", setting up an expectation of textural superiority that was not delivered. Across the table, a chicken Maryland ($26) was too pink to get the best off the bone, although the accompanying couscous was tasty and a side dish of miso-glazed eggplant ($8) expertly cooked.
At the time of writing, the menu was not easily googled. In summary, it's a simple beast: five starters (from $15.50 for a ceviche to $26 for barbecue back ribs for two) and six mains (with a $35 scotch fillet at the top end). The vegetarian options include a tomato salad with a green tomato honey, and a ricotta gnocchi with confit tomatoes. The tapas are on a separate menu and, based on those excellent croquettes, I wish I'd given them more attention.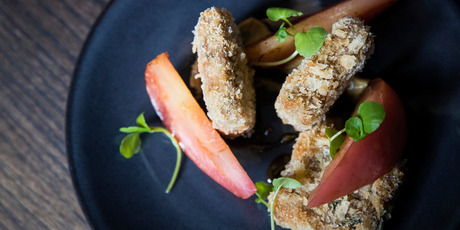 You have to look a little harder than you used to for Fraser's famous baking, but the lemon meringue pies and the Bailey's cheesecake et al are still there, in a small cabinet at the end of the bar. We went for the classic baked New York cheesecake ($7.90) and James declared it almost as perfect as his mother's.
Frasers has some work to do if it wants to keep its house as full as the one we witnessed, but at the very front and back ends of our evening, it showed delicious promise.