Restaurant review: The Halcyon
Author

Section

Publish Date

Wednesday, 9 August 2017, 3:32PM
Address: 194 Jervois Rd, Herne Bay Phone: (09) 378 7811 Rating out of 10: Food: 7 Service: 8 Value: 7 Ambience: 6 We spent: $303 for four.
---
Recently, I took part in an experiment where researchers sought to deliberately obscure any visual clue as to what flavour icecream I was tasting.
They did this by bathing the testing booth in red light. My palate was forced to work harder, but that was okay, because it was for science.
At The Halcyon, where the room glows like a West Coast sunset on meth, my palate was also labouring. And that was annoying, because I wasn't paying for a workout.
What to make of The Halcyon? It used to be Andiamo, favourite haunt of men of a certain age and women with expensive haircuts. Now it's like Paula Ryan suddenly started wearing Trelise Cooper, except that's unfair because there is far more refinement in a Trelise design than there is in this restaurant, which has a strangely unfinished feel.
The tables are not solid enough to anchor all that colour; the bird cage roof feature is whimsical, but at floor level there's just so much wide, open space (except, conversely, between the tables).
The lack of cohesion extends to the menu. There are three salads, for example - caesar, falafel and sushi. You can order a side of Chinese broccoli with garlic chilli and oyster sauce but also a side of carrots braised with butter, bay and chardonnay; the "comfort" mains include snapper and chips - and, when we visited, a massaman duck curry.
There was, I suppose, something for everyone. But this is an all-day eatery (from the same folk as Ponsonby Rd Bistro) and not a buffet. The dearth of any particular direction was unsettling. It meant the food had to work extra hard to reassure me leaving my living room when Uber was on surge-charging had been a good idea. Perhaps a cocktail would help?
A spritz of gin, pink grapefruit and pink peppercorns ($18) tasted as delightful as it sounded, even though we were halfway through our first course before our drinks arrived.
The waitperson had suggested we go for a few snacks, something from the grill, and a handful of sides. Great advice - except, at 7.45pm on a Saturday night, 50 per cent of the grill menu (the lamb and the chicken) had sold out.
From the snacks menu, the soft-shell crab taco ($16) was tricky to share, but it got a big tick for flavour. Besan (chickpea flour) fries are an excellent alternate to spud, though they needed to be crisper to make the most of a large dollop of tangy yoghurt and tamarind ($14).
They were out of tua tua, so we went for the smoked fish paté ($14), lifted from something-I-could-have-made-at-home by delicious little slabs of pickled cucumber and caper berries, and (slightly scorched) seed crackers.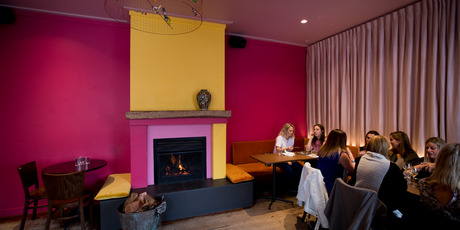 Whoever is on the grill really knows what they're doing. Our salmon and scotch fillet (both $28) were tar-black on the outside, juicy and just-cooked on the inside. Definitely the best steak I've had this year.
Our final main was the massaman duck. It's a large piece of meat and it fell off the bone in sharable portions. Delicious, though in the muddled lighting, it took a few seconds to figure out it was sitting on brown rice (the menu just said "rice").
Actually, all things duck were done very well. Hamilton's Duck Island roasted white chocolate and miso icecream took an excellent apple pie ($14.50) into the next stratosphere. I would actually drive to Hamilton for more of that icecream, but I'm not sure it's quite enough to tempt me back to The Halcyon.