Restaurant review: The Chamberlain
Author

Section

Publish Date

Saturday, 2 September 2017, 10:03AM
Address: 120 Quay St, Auckland Email: drink@thechamberlain.co.nz Rating out of 10: Food: 7 Service: 7 Value: 8 Ambience: 8 We spent: $244 for five (including one child).
---
Her: "Harry would like to know if you're on the bus. I think he senses a race!"
Me: "Yes. But Google says it's a 17-minute walk from the Civic. Are you on the train?"
Her: "Not yet. It's running late."
Auckland depends utterly on the efficient deployment of planes, trains and automobiles. Leaving your house for food is a question of faith and a test of fortitude. I am convinced the city's drive-throughs are mostly occupied by citizens who could not get a park outside a restaurant that would not take a booking.
Public transport is the obvious solution. So, on the same Sunday Jacinda and Bill were talking rail and roads, we were four adults and one kid on a train vs bus race to a downtown pub lunch meet-up.
The Chamberlain is where Tyler Street Garage used to be, in the heart of the Britomart precinct. The refit goes big on pool table-green tiling and tables, exposed timber and some seriously cool convex mirrors. For many, however, the star attraction will be the 14 golden taps at the bar.
When we visited they were pouring everything from Epic and Hallertau lagers to the Yeastie Boys earl grey tea flower-enhanced Gunnamatta and 8 Wired's nitro Flat White coffee milk stout.
I ran the blackboard (which included ciders and commercial standards like Asahi and Estrella) past an expert: "A rarity," he declared. "A diverse list that really does offer something for everyone."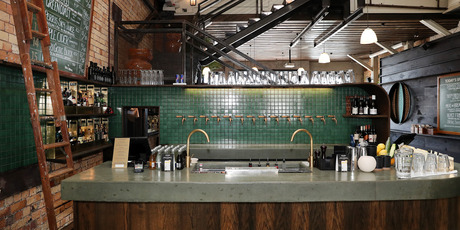 Go for the beer and then come back for food - the menu is the sticky, smoky, deep-fried hangover cure you've spent a lifetime of Sundays looking for.
Ribs? Take your pick. The beef ($15 for 250g) fell off the bone in manageable bites. The pork looked like the aftermath of a nature documentary. An entire meaty rack ($35) splayed across the platter required total hand-mouth co-ordination and liberal use of a finger bowl. Yum.
I suspect The Chamberlain (and its upstairs tiki-style cocktail space, Talulah) mostly serves an evening crowd. We were the only people there for Sunday lunch, but we did order enough food for a small army.
The 5-year-old didn't like the chewy bits in his house-made boerewors sausage ($12), or the crunchy bits at the bottom of his chocolate icecream bowl ($3 a scoop), but he is hardly target market. At the adults' table, we were enjoying new ways with salt and fat.
There was a spicy mince topping on the "beast fries" ($13) and while I kind of just wished it had come with a taco, I did like the bacon nuggets ($16) - deep-fried chunks of hock-like meat that went very well with a beer.
Meat is definitely the main attraction. The sole vegetarian "big plate" was smashed pumpkin ($25).
It looked impressive with its black tahini base and blobs of labne, but I wanted the pumpkin to be drier and nuttier.
An "everything" slaw lived up to its name ($11) and made us feel marginally more virtuous about a second bowl of fries that we used as spoons for a rich beer and cheese sauce and smoky, slow-burning ghost reaper chilli sauce ($2 each). Oh, and we had juicy, skin-free, sweet and spicy chilli and maple turkey legs ($22 for three) because the return train wasn't for another 30 minutes and what else were we going to do?
It was all pretty good, well presented, and even the most experienced Sunday pub-grubber is likely to find something they haven't had before (deep-fried pie, anyone?), but I'd ordered far too much and that 17-minute walk back to the bus stop was looming like Everest. I wiped the sticky sauce from my chin and called a cab.