Restaurant review: Simon Gault's Giraffe
Author

Section

Publish Date

Saturday, 22 July 2017, 3:34PM
Address: 85-87 Customs St West, Auckland Ph: (09) 358 1093 Book online with Restaurant Hub
Snacks $9-$13; Dishes $21-$42 ($178 for suckling pig for 4); desserts $16-$18
---
In my student days, when I worked in the original Tony's as a kitchenhand, the eponymous Mr White would grudgingly allow us a small bowl of spaghetti at 5pm. His brother, David, who was in charge on Sundays, asked us to pick out the best steak we could find and cooked it for us, perfectly. Guess which Mr White we went the extra mile for when the going got tough around 9pm?
Perhaps Simon Gault had a similar experience once, because at Giraffe, if you show up before 6, they ask you to wait while the staff finish their dinner. It's a nice touch, I think, and it reassures diners that they are in a place where the boss wants the workers to be happy because happy workers produce happy diners.
These are good vibes to be creating in a restaurant before the doors open. And it doesn't stop there. At the end of the menu is a $20 option to shout the kitchen staff half a dozen beers.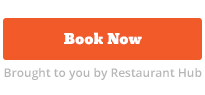 Giraffe, named by the boss' daughter, represents the celebrated Gault's return from a self-imposed sabbatical inspired as much by personal as professional needs. His brand was virtually an empire and here he seems to be striving for something more laidback.
If so, he's nailed it. Eating at Giraffe is a pleasure you don't have to take too seriously. The conceptions are inventive and the cooking is assured but the food has about it an unmistakable taste of the everyday. An item on the "chef's snacks" part of the menu consists of "garden crudites" - sliced stalks of carrot and radish, but the item's headline is butter. It's flavoured with smoked kahawai and turmeric, so it's butter but not as we know it. Thus the weight-watcher's doleful lunchbox selection plays second fiddle to pure, fatty pleasure. You can almost see Gault winking as he made it.
As it happened, we didn't try that dish. I was more attracted to the beef tendon crackers - puffy, beefy, crunchy crisps, like pork scratchings without the white fat, which the usually meat-averse Professor had to be restrained from scoffing.
She exulted in a variant on the insalata caprese that used the bloodier, meatier Spanish ham instead of the more refined prosciutto, and the best burrata we've ever tasted; and I enjoyed a steak tartare that was both muscular and delicate, like Roger Federer's tennis, which was much in my mind at the time. Both dishes, small and perfectly formed, triumphantly exemplified what has always been Gault's watchword: 75g of the very best of something will always deliver more pleasure than 125g of a more ordinary version.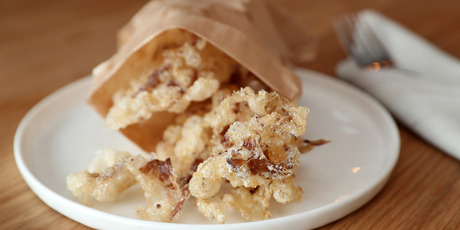 A fillet of fish - hapuku, I think - came steeped in coconut milk and wrapped in a taro leaf, so it had a Pacific feel but was rich and comforting enough to be winter food. Pickled radish and ginger cut through the richness.
It wasn't a flawless performance: the pork shoulder in some plump ravioli was closer to minced than shredded and swamped in an oddly blue-green creamy sauce that drowned the taste. And a dessert labelled rice pudding was cheerless on the plate, looking a lot like institutional food. But these are details.
Tucked in the corner of the Viaduct, between a sports bar and a forgettable Mexican, Giraffe can be a chilly experience because of its marquee-style frontage (nab a seat near the kitchen, if you can) but the welcome is warm. It's a pleasure to eat in a place where everyone seems to be having as much fun as they want you to have.