Restaurant review: Hugo's Bistro
Author

Section

Publish Date

Friday, 25 August 2017, 1:45PM
Address: 67 Shortland St, Auckland Phone: (09) 320 4387 Website: hugosbistro.co.nz Rating out of 10: Food: 7.5 Service: 8 Value: 7.5 Ambience: 7.5 We spent: $325 for four.
---
Hugo is, reportedly, one of the most popular names in Europe. In that context, Hugo sounds urbane and sophisticated.
Unfortunately, in my world, Hugo will always be a chubby kid in a car. As in, "Hugo said 'you go' and I said ' no you go' and soon he was back and ..." Why is it just now occurring to me that Kentucky Fried Chicken's most famous jingle starred very fat cartoon children?
Anyway, I'm walking towards Hugo's and that jingle is going round and around in my head and all I want is fries. We will (eventually) get chips. But first, some melty discs of tangy goat's cheese taking shelter under sweet and tender chargrilled capsicum blankets. It's confirmed. We're definitely dining with European Hugo.
Hugo's Bistro is related to Odettes Eatery. No, I don't know why one takes an apostrophe and the other doesn't. I'd blame stupid parents, but it's obvious Clare and Joost van den Berg are anything but.
They are restaurateurs who know how to read a crowd. Hugo's is an all-day eatery pitched perfectly to its location. I doubt the inhabitants of the nearby law firms and business towers were raised on KFC - but I bet they recognise brisket, creamed spinach and Dijon as a more moneyed version of boarding school corned beef and mustard sauce.
That said, Hugo's is not going to break your credit card. The brisket (salty, tangy and wholly satisfying) was a very decent $22 when we visited and $24 when I checked the menu more recently.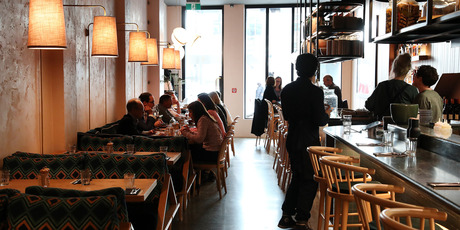 The market fish had also risen slightly in price (from $31 to $33) but you should order it at all costs. Steph's kingfish was, as they say on the telly, cooked to perfection. The robust accompaniments - chard, anchovies and olives - were buttery and oily. It was totally and unexpectedly decadent and I had serious food envy.
By contrast, a $19 meat-free special felt like some sort of culinary castigation. Hugo's dinner menu (Tuesdays to Saturdays) is a moving feast but, on this night, there were just two vegetarian options. The aforementioned cheese and capsicum ($14 for three pieces) was very good. The other - basically two bits of cheese on toast with a handful of bitter radicchio and sauteed mushrooms - was not.
To my left, the sirloin ($34) was a surprise. At some point the ribbon of meat had been threaded on to a skewer and well-charred before being packed away in a little silken sleeping bag of pasta. (This is, officially, the only time in my life I have endorsed the use of a sleeping bag.)
We definitely wanted fries with all of that, but none had arrived. Our waitperson was charming in her admission that she had, simply, forgotten to put through our order for all the sides. In the open kitchen we watched, two chefs rapidly toss rocket, sear sprouts and deep-fry spuds.
"Hot," said Nicola, and while I'm almost certain she was referring to the chips ($10), it did feel like a night at Hugo's could easily get wayward. The booths were squashy and pillowed; the lights - little brass bars over each table - reminded me of a law library. Secrets might be spilled here and confidants made. At the very least, you might share a dessert.
"Best ever cheesecake," said Steph (she definitely meant the cheesecake). A chocolate fondant cake oozed in the centre, but the outside was bitter with burnt bits. Redemption in a stunning open apple pie. The fruit sat on shortbreadish base. It was crumbled with toasted oats and studded with hunks of sharp cheddar. Hugo had moved to England and we were very pleased to make his acquaintance.