Restaurant review: Huami
Author

Section

Publish Date

Sunday, 30 July 2017, 10:43AM
Address: 87 Federal St, Auckland Phone: (09) 363 6000 Bookings: info@huami.co.nz Rating out of 10: Food: 8 Service: 7 Value: 6 Ambience: 8 Cost: We spent $271 for three
---
The dim sum platter is a jewel box with a bamboo lid. Inside, a prawn dumpling with the lustre of pearl and a shining spinach and crystal crab dumpling made shinier with black caviar. The shrimp and chicken siew mai is prettily crimped; opposite, steamed vegetables fill a wrapper that gleams saffron gold.
"They should be coated in actual gold," says one of my dining companions.
She is Gisborne-born Chinese - and she is imagining her mother's reaction to a $20 bill for four dumplings.
Huami is the contemporary Chinese addition to SkyCity's stable of high-end eateries. Just inside the big red door is a fish tank full of fat crayfish. Price-check? $220 a kilo.
At the table (comfy chairs, plenty of space between diners) we consult the drinks list. The Remy Martin Louis XIII cognac is $365 a glass. A bottle of Te Whare Ra "Toru" sets us back a more manageable $60.
Huami looks luxe. Lacquered screens, an enormous kitchen and, en route to the bathroom, an astonishing glass cabinet chocka-full of plucked ducks.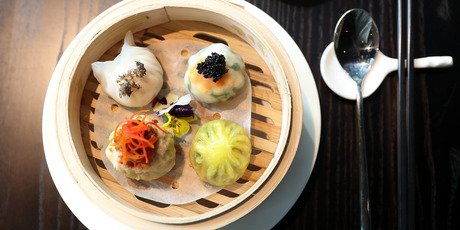 The birds are stuffed with ginger, garlic, licorice and more, before being dried for up to two days then blasted juicy-crispy in an oven fired with plum, manuka and kanuka wood.
The result is very, very good. Not a hint of stringiness, and skin that crunches. We order a half-size peking duck and it comes, boneless, with plenty of meat and pancakes (we needed more spring onion and cucumber) and a homemade hoisin that's more salty and less sweet than the bottle in my pantry. It's served on a duckheaded ceramic tray that could be tacky but, in the $48 circumstances, is not.
Chinese restaurant menus are, invariably, large. We spend ages, turning page after page. The waitstaff are happy to answer questions (even if their answers are wrong - kanuka, for the record, is not a kind of apple) but offer little guidance. We agreed, for example, to receive our food when it was ready, but I never imagined every dish we ordered would be ready within the same three-minute window.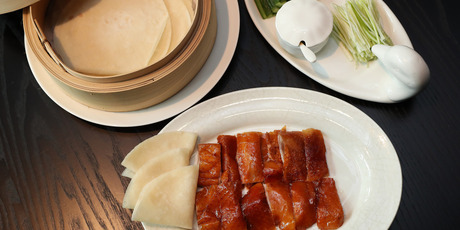 How much to order? Eight dishes for good fortune, six for luck. Four is death, but multiples of three are invariably great (cheat and count the rice if you have to). My companions advise me to seek an equilibrium. Cool (think bitter melon, lettuce and seaweed) and hot (chillies, pepper, deep fried and spicy), and not too much of the same flavour.
Probably then, one duck dish was enough (I've heard good things about the wok-fried beef ($48) and the garlic steamed prawns ($40) at the next table looked amazing) but how great does clay pot duck and chestnut with bean sauce sound? Actually, it reads better than it tasted. Plenty of meat and mealy chestnuts, but the sauce was very thick, and once cooled, gluggy.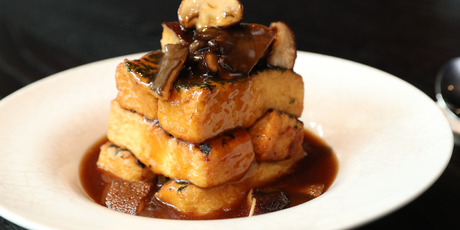 We'd thought about starting with soup. "Buddha jumps over the wall" is a traditional dish of dried delicacies. Huami's includes scallop, fish maw, abalone, and sea cucumber - with a $68 single-serve price tag. Next payday, maybe. Crispy octopus ($22) and crispy aubergine ($12) both hit their textural brief, but one tasted only vaguely of seafood and the latter of nothing but batter. It was like eating the stray bits from a fish and chip vat.
More successful was the home-made spinach egg tofu with oyster mushrooms ($24). The latter were dead ringers for button mushrooms, but no matter, because the texture and flavour of these savoury, slippery slabs of custardy goodness was sublime.
We shared an $18 mango pudding (fresh and lovely) with roasted pineapple (duller on the palate than we expected) and happily accepted an offer to have all our leftovers boxed up.
I would go back to Huami for the peking duck, and I'd absolutely jump a wall for the tofu. But today, I'll be having leftover duck and chestnuts, because it was $38 and I suspect my friend's mother would have something to say about wasting that.