Restaurant review: Honeybear
Author

Section

Publish Date

Wednesday, 12 July 2017, 11:52AM
Address: 4 Brown St, Ponsonby
Phone: (09) 360 8080
Rating out of 10: Food: 8 Service: 9 Value: 8.5 Ambience: 5
We spent: $160.50 for two
I left Honeybear with a bruise on my stomach after I mushed it into a table while trying to avoid taking out the contents of my neighbour's table with my arse.
It wasn't just me. Later, I watched a woman - tall, elegant and very much slimmer than I - approach her seat with trepidation. "I'm not sure I'm going to be able to get in there," she said. "You wouldn't want a middle-aged bladder," said her friend.
Honeybear is like being in the middle seat of a long-haul flight. Indoors, you're held captive by high banquettes and firm pink velvet-covered bolsters. Outdoors (but under cover), you're on high stools and a first-name basis with your neighbours. Any sudden moves, and you'll be wearing their dosa.
Those dosa. Fermented? Check! Gluten-free? Check! It's actually hard to believe this Indian pancake hasn't been Ponsonby-fied before now.
Honeybear is in Ponsonby Central in the space that used to be Meldito Mendez. It's the newest kid on Mark Wallbank and Che Barrington's block (they're the hospitality pairing behind Moo Chow Chow, Blue Breeze Inn and Woodpecker Hill). The menu draws from Burmese and Indian culinary canons. Cross your fingers for an appearance by Myanmar's world-famous tea salad, but right now, the star of the show is the $7 dosa. It dangles, at least half-a-metre long, either side of the plate. Kudos to the waitstaff because, as well as being quite close together, the tables are quite small - the dosa drop-off requires superior fine motor skills.
There is cutlery, but the idea is you rip off a bit of that deliciously chewy, faintly sour, pancake and use it as a curry scoop. We ordered the 24-hour masala spiced beef and the slow roast pork cheek (both $28). One fragrant and earthy, the other sweet and creamy (with an intriguing smear of goat's curd) and both properly saturated with flavour. They tasted as time-tempered as promised, though lighter on chilli than we'd expected.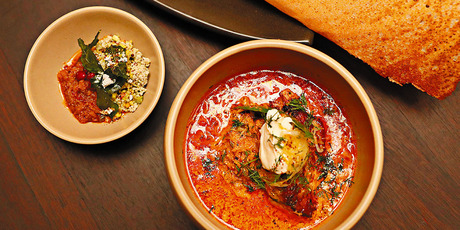 The key source of heat across several dishes was, in fact, ginger. It lent a pleasant background warmth to a menu that runs from five "biggies" (including a fish curry and a lentil dhal) to six "shorties" and assorted sides.
Perhaps because I didn't spend my 20s pining for Vogels and living above a pub in Earl's Court, I have never understood the appeal of curry sauce and chips. We skipped the fries and started, instead, with the tamarind chicken "wafer" ($14 for three). It was a mini-me dosa, filled with fragrant meat and scattered with shredded lime leaves and fresh coconut. Light, elegant and just about perfect alongside a self-built G&T - PYO gin, tonic and aromatics (think cardamom bitters and cucumber, lemongrass and pomegranate pearls, etc).
The crispy soft-shell crab pakora read better than it ate. Generously portioned ($16 for four) but you really had to drag it through the tamarind and yoghurt base to get any flavour. Ours was crispy, but the table next door's wasn't. It's hard not to eavesdrop when you're sitting in a stranger's lap. Thus, I can report their fried tofu was made from chickpea and was excellent, and that once you've finished reading Catherine Chidgey's Ockham Prize-winning The Wish Child, you should definitely move on to finalist Emma Neale's Billy Bird.
Were we were moving on to dessert? I was stuffed (the $3 pilau rice was deliciously odorous with cloves, but also completely filling) and in danger of not being able to squeeze out of my seat. Just the one, thanks.
The cardamom spiced chocolate mousse, with popcorn and shards of hokey pokey ($15), was enormous. I risked a mouthful. Recommended - assuming you have a flat stomach and zero arse.