Restaurant review: Harbourside Ocean Bar Grill
Author

Section

Publish Date

Sunday, 2 July 2017, 1:31PM
Address: 1st Floor, The Ferry Building, 99 Quay St, Auckland Phone: (09) 307 0556 Rating out of 10: Food: 7 Service: 7 Value: 6 Ambience: 6 We spent: $315 for two.
---
"Do you like oysters?" asked the waitperson. "Do you like bread?"
"We do," we replied.
She beamed. "We have bread AND oysters," she said, like we had won the lottery. In fact, we'd been put in that slightly awkward position where you either ignore the screams from your credit card, or you ask "how much" like some sort of uncultured, cheap-arse.
"How much?" I asked.
It was $33 for half-a-dozen of Bluff's finest and we said yes, because (a) Canvas magazine was paying and (b) Canvas magazine was paying. (Note to Ed: We saved $9.95 by not ordering the house-baked focaccia with Number 29 Waiheke Island extra virgin olive oil and whipped butter).
Seriously, I said yes because the bonamia news from Bluff is devastating and I was worried that, next season, oysters might cost more than a house in Auckland or an avocado in June.
Also, they were excellent value compared to the Atlantic scallops which had, apparently, been flown business class - how else to explain an eye-gouging $27.95 for three?
Harbourside describes itself as a premium seafood restaurant. It is ideally situated for this claim, atop the historic ferry building overlooking the inner harbour. Unfortunately, we couldn't see the sea - our original table, on the plastic-sheet enclosed outdoor deck was directly in the path of a gap in the plastic sheet. It didn't seem proper to eat a $40 main in a puffer jacket, so we decamped inside.
They can seat 120 in here and a busy lunchtime service centred on a bustling open kitchen is probably a lot of fun. On a wintery Saturday night, it was a bit like being locked in a business hotel lobby on a long weekend. The carpet had chevrons. The art was bratty.
At least we had oysters. Fat, sweet and metallic. And those scallops were actually really good, thick and translucent, even if the version we were served looked nothing like the version later plated for the photographer, and the thumbnail-sized pieces of pork hock were weirdly square for ankle meat.
I'd fallen for my entree based on the online menu. Smoked snapper and baby paua "soup" with squid ink croutons, seaweed and pearl onions ($28.95). Who wouldn't swipe right? But it arrived like a man in a tucked-in-shirt and shiny shoes. Sometimes, you want a bit of stubble.
The Ora King Salmon main ($39.95) appealed. I imagined oily fish, smoky leek, meaty oyster mushroom, apple for cut-through, samphire and diamond clams for the ocean and crayfish essence to remind me this was expensive. It was an extremely handsome dish, but I did not swoon.
James identified the problem: "Not enough competition." He was right. Soft, sumptuous richness had blurred into one devastating descriptor: Nice.
Better luck with the seared hapuku fillet ($37.95) that socked a Mediterranean-inspired punch. Ratatouille and a piquillo pepper sauce dominated and the fish was perfectly cooked, though we couldn't identify the promised chorizo crumb, and the deep-fried soft-shell crab garnish seemed redundant.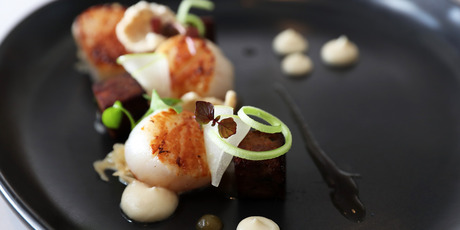 Dessert? An apricot bavarois with an ivory vanilla cheesecake with pistachio icecream, apricot and rum and raisin compote ($16.95). Delicious, but I feel tired just typing all those words.
We used to eat out like this all the time. Nineteen-things-plus-sauce on a plate. But that was before the average office worker began receiving 121 emails a day and "poverty" became a word prefaced by "time". Life is complicated - dinner doesn't have to be. Dear Harbourside, it's me, not you. What I should have done was ordered a whole-roasted fish. A 500g Hauraki Gulf snapper or Hawke's Bay flounder ($38.95), or a 1kg john dory ($64.95). I watched the couple at a far away table share the latter and felt jealous. I should have ordered that fish, and I should have slurped those bones with as much joy as I had slurped those precious oysters.