Restaurant review: Gypsy Caravan
Author

Section

Publish Date

Thursday, 20 July 2017, 3:32PM
Address: 130 Ponsonby Rd, Ponsonby Phone: (09) 360 4075 Rating out of 10: Food: 8 Service: 8 Value: 8 Ambience: 9 We spent: $188 for two.
---
If Alice fell down the rabbit hole in 2017, this is where she might land - down a lane, behind a curtain, drinking cocktails from a silver teapot.
Ponsonby's Gypsy Caravan has a storybook charm. There are paper lanterns and feathered dream catchers. The garden is lit fluoro green and there is a man setting fire to cast-iron frying pans full of cheese.
I imagine it's glorious in summer (there's an actual caravan down the back) but I loved it in winter. That garden, with its spiky palms and flickering heaters, was an Henri Rousseau jungle come to life. Tiger, tiger, burning bright ...
Poetry on our plates, too.
I ordered the avocado falafel and whipped feta ($14) to confirm my longheld belief that cooked avocado is disgusting and now I'm questioning everything. It was not overly avocado-ey but it was moist and light in a most un-falafel manner. I ate more than my share.
The hits kept coming. "Anyone wearing hairspray?" said the waitperson with a small bottle of ouzo and a cigarette lighter. I asked him what the cheese ($20) was, and I think he said kefalograviera, although once he'd set it alight and it had melted and sizzled and gone sweet with honey and liquor, he could have also just said "delicious".
The Gypsy Caravan started life as part of the Street Food Collective. It shares a phone number (and management) with neighbouring barbecue restaurant Miss Moonshine but there is no beef brisket here. Back in May, the entire menu was vegetarian or vegan. In the heart of winter the offering is meatier - duck and lamb mains, beef tartare and octopus entrees - and the sides are pure carb.
I wilfully ignored the octopus-is-the-new-dolphin mantra (Silvia Killingsworth, writing in the New Yorker, says the cephalopod is "probably the closest we'll get to meeting an intelligent alien") and it was $19 well spent.
There is a unique toothy "give" to a well-braised octopus and this one was made even more delicious with a savoury, garlicky pil-pil sauce and a blob of soured dairy. Puffed wheat added texture, fennel pushed the flavour boundaries. My vegetarian dining companion had the prettiest interpretation of mashed spud, via the skordalia ($17), bright with peas and beet.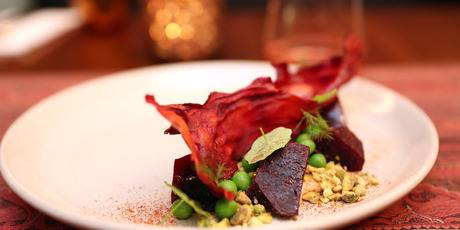 Remember when cauliflower was, simply, a gateway to cheese? Then the paleo people turned it into rice and food writers claimed you could use it to make a pizza base. In 2013, a Minneapolis company made a charred cauliflower icecream. Now it's $7 a head in the supermarket, and here I am, ordering a $28 cauliflower main.
The florets are earthy with Ethiopian berbere spice mix, and they sit under a giant caul of thinly sliced daikon, on a swish of kelp broth. Impressive, and I am not even vaguely wishing we'd ordered the duck.
It's raining and windy outside, and Ponsonby's main drag is madness. Well-heeled people going places, been places, with other places to be. Inside this fairy store for adults, I'm warm and enchanted. We will definitely stay for dessert.
"It's your MasterChef moment," says the waitperson, as he presents a visually extraordinary milk chocolate sphere sprouting a tangle of raspberry-powered deep-fried parsnip strips. I'm bewildered because the menu descriptor starts with the words "passionfruit curd" and does not mention chocolate. We smash the sphere to find it full of a sweet, milky substance. It is not curd, and whatever it is renders the caramelised, biscuity crumbs (new food word of the week: "feuilletine") at the bottom of the bowl soggy. If this was MasterChef someone would be going straight to the elimination round.
Once upon a time, it was a dark and stormy night, and they all, mostly, lived very happily ever after.