Restaurant review: A model menu at Azabu
Author

Section

Publish Date

Thursday, 16 February 2017, 1:48PM
At a certain point, we stepped outside for a cocktail. On the back deck of Azabu, it was a surprise to realise (a) it was still daylight and (b) we were still in Auckland.
Inside was leather pencil skirts and satin halter tops slashed to the waist; all of the city's interesting shoes and interesting people, in a single slim and interesting space.
We had been seated by a woman who looked like a model. The next day, I realised she was a model. Specifically, a former New Zealand's Next Top Model. She was beautiful. So were the glossy, mossy-green wall tiles. So was the snapper ceviche with plum dressing and pops of salty, fishy tobiko. In part, and in sum, Azabu was a stunner.
But looks aren't everything, right? Beauty is how you feel on the inside. I can confirm, post-beef tataki tostada, we felt pretty damn fine on the inside.
Azubu specialises in Nikkei food. It's a term first used to describe the cuisines created by Japanese emigrants who combined traditional techniques with the ingredients of their new countries. More particularly, it has come to reference what happened when Japan met Peru.
That quartered corn tostada (so far, so South American) for example, is topped with rare seared beef, a nose-whack of truffle dressing, shiitake mushrooms and pickled daikon radish. Grilled octopus ($16 for a very generous portion) comes on a potato mash spiked with aji amarillo chillis. The oh-so-pretty ceviche ($23) is cut flat, like sashimi.
International food writer Allie Lazar once labelled Nikkei food "gastronomic natural selection at its finest, a flawless spawn of epicurean intercourse".
It's a great description, but it's a scientific fact that even beautiful people can have unattractive children. At Azabu, the runt of the litter is the sweetcorn tempura ($14). It would have been great on a hangover brunch menu, but at dinnertime the batter was too heavy and the corn too dry. (We were clearly not scarred by the experience. Two hours, and two cocktails apiece later, we merrily ordered the $12 tempura custard with ginger jam. Safety in numbers is your mantra here. It's oh-my-lord-deep-fried-delicious, but that jam is hypoglycemic-shock sweet.)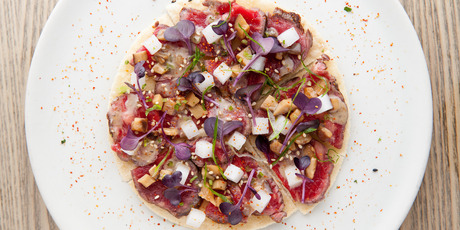 On many levels, Azabu's menu is a phrase I am not allowed to put in print. A polite synonym (thanks, Google) might be "mind mangle" or "cranium contort". Pork gyoza laced with jalapeno, and edamame pods paired with smoked lime salt, mess with your head. Combine that with dim lighting and a windowless interior; an eclectic crowd that buzzes and spills from dining room to roji bar, and the experience is transportational.
This, for example, is a side of cabbage, but not as you know it: the long-leafed Chinese version of the vegetable is slick with sesame mustard dressing, salty with parmesan and served steamy warm. On our table, it sat alongside our only "main plate". Chuleta is a chop by any other name, and these (lamb, anchored with smoky aubergine and brightened with pureed coriander) were sublime. We ate them with our fingers, because there was only chopsticks. A chop with chopsticks was a fusion too far for me, but, on almost every other count, this Japanese-Peruvian love child was a thing of beauty.