Is pig's neck the new pork belly?
Author

Section

Publish Date

Saturday, 8 April 2017, 5:26PM
At this time of year, there is only one shellfish in town. A fat, pale, money trap of molluscular proportions. This then, is a public service announcement: Step away from the Bluff oyster, move immediately to The Cult Project and order a mussel.
Lightly pickled, obscenely plump, the underrated shellfish becomes a single serve superhero at this downtown pop-up kitchen. Cost? $2.50 a piece. You're so, so welcome.
Things were off to a very good start at The Cult Project. It's operating, for the foreseeable future, Tuesday-Thursday nights from Britomart's Racket Bar. I hope they get their own restaurant soon. The bar's narrow tables struggled to accommodate our order, and I'd love to see this crew's food aesthetic applied to an entire room.
Maybe I'm missing the point. The Cult Project is all about environmental awareness and being nice to the planet. Nothing says "recycling" like repurposing an entire building, if only for a few hours a week.
The menu is small but interesting. It takes the undersung and often-wasted - animal faces and vegetable peelings - and makes them delicious. We ate almost everything (and can recommend almost everything) but one dish really stood out.
"Silk handkerchiefs," I typed on my phone.
"Kentucky Fried Pork pasta and chilli," said Sarah, going in for a deep dive of thin, slippery pasta sheets, crispy bits of compressed pig's head and a smeary, molten, cured egg yolk ($18).
Earlier, our lovely waitperson had sorted snacks. The mussels, plus a wickedly decadent chicken liver parfait with juicy plum preserve and a kind of crispy potato-skin sandwich of smoked fish ($5). The latter was the least successful, possibly because it was overshadowed by a serve of excellent (and complementary) crusty house made bread and caramelised fennel butter.
A word about our waitperson: amazing. When she smiled her way through an extended barrage of questions from our table while balancing five used plates - plus cutlery - up one arm, I thought she deserved a medal.
Were there any bad bits? I didn't really enjoy the thinnish, extruded plugs of bright orange kumara gnocchi ($14) - a little wet and gluggy for me. Dessert was a brie de Meaux custard, with fresh fig and burnt butter presented as a brittle disc ($12). It sounded amazing, but it was a dairy overload in the mouth, and the fig was too mellow to compensate. I left wishing we'd gone for the grilled nectarines.
Order the polenta ($23 for a large side dish), and you won't need dessert. "If I had a hangover," said Sarah, "I would eat bowl after bowl of this." She's lying. If she had a hangover, she would eat KFC, but the creamy polenta with its chewy chunks of fermented corn and tangy chipotle sour cream, would be a more perfect soother.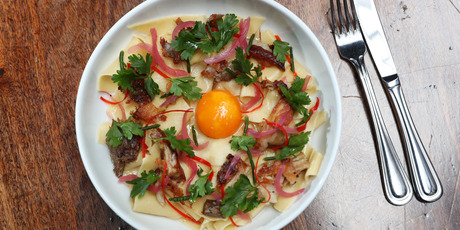 I'd like to go on about the trevally ceviche ($16) with its hint of coconut and hit of chilli, and the gurnard ($30), steaming fresh on a broth made from its own bones and tomatoes (a smoked fish topping was deemed overkill by our table) but I'd rather talk about the meat.
Beef flank is a fibrous and tough cut. Here, it had been subjected to fierce heat - it was burnt bitter in places - then sliced thinly for ease of chewing. Tableside, it was soaked in a soy butter emulsion and it came with salty, fermented apricot and bitter witloof. Baryshnikov could not have demonstrated better balance.
Less balanced, but possibly even more delicious, were fatty piles of pork neck, braised with celery and onions and piled with "scratchings" made from potato and more bits of piggy bliss ($30). From head to tail, The Cult Project is saving the planet in the yummiest possible manner.